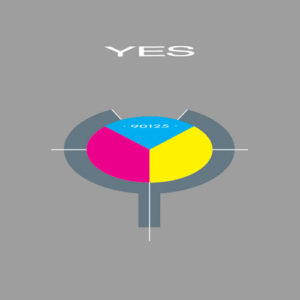 This summer saw amazing new releases. Established bands released new albums and new artists made great debuts. As a result, I haven't found the time to revisit older albums. However, on recent trip to see my dad, we had one of our many conversations about music. He said, "You should really check out Yes." I said, "Dad, I've been listening to Yes since I was a kid and you made me listen to "It Could Happen" over and over again." But he's old; how is he supposed to remember anything?
Of course, I have Yes's 90125 on vinyl. When I got home, I placed it on the turntable. I immediately broke out the air guitar during the opening guitar riff of "Owner of Lonely Heart" and danced around my living room. I felt like was 10 years old again.
When I was a kid, one of my dad's favorite tricks was to record a great song or an awesome guitar solo on a loop so we could memorize every amazing note. He did this with "It Can Happen." As the record spun to the third song, the memories of my siblings and me jumping around the living room jamming on our air instruments, like we were the biggest rock stars on the planet came rushing back.
Forever burned into my memory, "It Can Happen" is my favorite tune on the album. Putting the air guitar aside, I love the message. The song is the 80s version of The Byrds' "To Every Season." In life anything can happen, good or bad, so be prepared and roll with it. Although Jon Anderson's lead vocals are a little annoying, Chris Squire's background vocals add the richness needed to balance the tone.
90125 had four singles. Three of which reside on the A side. Ripe with catchy hooks, the radio singles show only one dimension of Yes. It's the B side of 90125 where the true gems lie. "Cinema," an instrumental, gives a much needed break from Anderson's grating voice and earned the band a Grammy for Best Rock Instrumental Performance. "Leave It," the second single from the album, holds true to Yes's signature sound; the bass line is catchy and the harmonic vocals are unique. Yet, the song is repetitive and a little wearing.  
Yes likes to leverage electronic sounds from their keyboards, but you can't deny the blues influences; you can hear it in every bass line. Squire's bass lines coupled with the unique, rhythmic tones coming from Trevor Rabin's keyboard and Alan White's spectacular percussion skills give Yes a fantastic rhythm section. 
With such amazing musicianship and guitar solos I overlooked the lyrics until this revisit. It's not just the sound that ties the album together; the album shows the progression of how to believe in love. It opens with "Owner of a Lonely Heart," a song about being ok with being alone. Side A ends with "Changes," which recognizes that while breakups suck, the two parties are better on their own. Side B explores the fight to maintain relationships with "Leave It" and "Our Song" and the album ends with Yes telling us that two hearts are better than one in "Hearts."
Die hard Yes fans may discount 90125 as too much of a departure from the 70s version of Yes. But even though this album may be a bit poppy, you can't deny the musicianship and amazing riffs that flow through the entire album.
I definitely got my obsession with music from my father. Whether it was on vinyl, reel-to-reel, tape or CD, my dad was always telling me to check out a cool song or band. For a man with no formal music training, he taught me about syncopated beats, the wall of sound and how to appreciate the overall composition, not just the gorgeous guys in my favorite hair bands. My dad and I disagree on almost everything but our love of music forges common ground. I should clarify, while I have been listening to Yes since I was a kid, I am only familiar with 90125. Maybe the next time I'm at my local record store, I will take my dad's advice and pick up another Yes album.
Joy's Jams Scale (Click here to see a description)
Nostalgia
Sing along 

(just because I am not a huge fan of Jon Anderson's voice)
Air Guitar 
stars