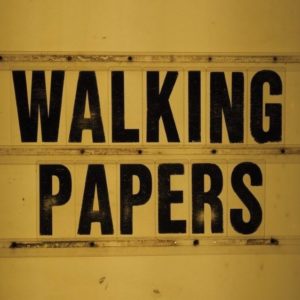 Right out of the gate, Walking Papers' sophomore album, WP2, rocks. Opening with strong, heavy bass and fuzzy lead guitar, "My Luck Pushed Back" kicks off the album in high gear. This is the type of record you want to spin while relaxing in a leather wingback and sipping a smoky scotch. The effortless gravel in Jeff Angell's vocals provides an eerie calm throughout the album. Meanwhile, the rhythm section (Duff McKagan – Bass and Barrett Martin – Drums) drives the album forward and pulls the listener in. Then, the Walking Papers hits you with the guitar solos every rock fan loves.
Songs like "Death on My Lips," "Red & White" and "Yours Completely" give the album a sultrier groove. "Don't Owe Me Nothing" offers a sort of wandering Western quality. Yet, the WP2 delivers surprises with faster tempos in songs such as "Somebody Else," "Hard to Look Away," and "This is how it ends."
The percussion and keyboard (Benjamin Anderson) elements on this album can't be overlooked. The keyboard and the vibes appear to fill the space between notes to create an environment that envelops the listener in a rich, thick sound. "Right In Front of Me" juxtaposes the chimes of the vibe and a crisp snare against organ keys and fuzzy guitar to leave a meandering linger.
While the Walking Papers has a pedigree worth noting, it shouldn't be the lead. Just because McKagan is from Guns and Roses, Angell and Anderson are from The Missionary Position, and Martin hails from Screaming Trees, doesn't mean you are going to get sound that is anything like those bands.  It's exciting when talented individuals decide to embark on side projects. Side projects allow artists to explore the depths of their talents without being encumbered by the expectations of a band's label and collaborate with new people for inspiration.
Walking Papers WP2 is out Jan. 19 from Loud and Proud Records. You can order your copy on their Pledge Music page or from your local independent record store. 
-Joy Goodwin