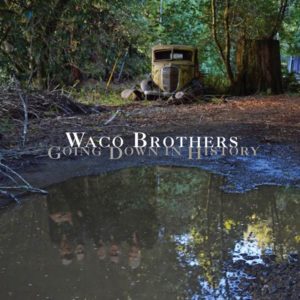 Reviewed by Joy G.
From the first bar of "DIY BYOB," I immediately liked the Waco Brothers latest album, Going Down in History. Their raw, somewhat rock and blues sound reminded me of other bands I enjoy, like Lucero. Their name made me think Texas but when I learned the Waco Brothers hail from Chicago I was floored. As a fellow Midwesterner, how could I not have heard of these guys until now?
While new to the Waco Brothers, there is something very familiar that runs through every song on Going Down in History. Their label, Bloodshot Records, describes them as country punk. Which is spot-on. From the get-go they reminded me of another Midwest punk favorite, the Replacements. But as the album continues, their guitar style has a definite country vibe. They even throw in some fiddle in songs like "Orphan Song" to solidify their rock country sound. All while maintaining a very accessible sound. The Waco Brothers bring something to listen to when you are having a good time. It's like Iggy Pop met Johnny Cash and they dreamed up the Waco Brothers.
At first pass through the album, their bluesy guitars and upbeat tempos hooked me. But the catchy bass line in "Receiver" propelled me to learn more about the Waco Brother's rhythm section. I was "Real Real Real" excited and surprised to learn their bass player, Alan Doughty, is also responsible for the great bass lines for the 90s two-hit wonder Jesus Jones.
Going Down in History captures a devil-may-care attitude. Anti-establishment and politically charged lyrics in songs like "Building Our Own Prison," "Had About Enough" and the album's title track mix well with plenty of songs about love: "Lucky Fool" and a cover of the Small Faces' "All or Nothing."
The Waco Brothers are raw and unpolished. The album is not overproduced. Songs like "We Know It" start with the band warming up; while other songs end like they would at a live show with a staggering note or a live mic catching a comment to the band. This unpolished approach to Going Down in History helps capture the energy they are known for in their live shows.
For such an under produced album, their album cover surprised me. The beauty of the vivid colors in the backwoods scenery seemed a little out of place. But the rusted truck and the band's reflection in the water added the perfect artistic representation of what the album holds; gritty rock and roll enveloped in a perfectly compiled arrangement of songs.
Gritty vocals, strong guitars, catchy bass lines and their carefree attitude makes for a fun album. I need to add the Waco Brothers to my summer concert tour because their unpolished sound is perfect for live music. With an album this fun, you know these boys put on a great show. Songs like "Had Enough" will have any crowd singing along.
The Waco Brothers pack Going Down in History with a good time. They are the type of band you want playing live at your local beer hall. While this may be my first turn with the Waco Brothers, it won't be last. I can't wait to grab a beer and catch them live.
You can pick up a copy from your local independent record store or directly from Bloodshot Records.