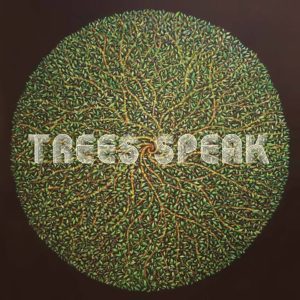 Its not easy to characterize Trees Speak. On paper the band describes themselves as "An experimental rock band that transcend mainstream influences by incorporating elements of Avant-garde, neo-psychedelic, minimalism, art and electronic-along with violin bowed guitar, Theremin and glut of effects pedals, and it's an ear bending rush of lush soundscape."
Whew, that a mouthful but we could not have said it better ourselves.
On their new self-titled album, Trees Speak recorded unrehearsed, utilizing all the tools in their arsenal to create a slow burning music journey rooted in repetition, minimalism, and experiments that comes out as a amazing ride into the unknown.
While the word repetition is many times used negatively, the group makes use of it well, with the percussion remaining the supportive backbone to each instruments experimentation over different melodies in search on unison. It's an interesting formula that pays off in many ways. The album is best taken in with a pair of headphones and dark room. It's easy to get lost, as if you are strapped into a convertible heading straight into the pitch-black desert, unsure of what lies beyond the headlights.
Led by visual artist Daniel Martin, the album is spread over two full length LP's and hits all the points the description promises. It's refreshingly authentic, unique and risk taking. Leaning towards a minimalistic approach, digital editing was only used to form the arrangements.
Call it minimalism, call it psychedelia, call it electronic, but whatever you do, get this album in your collection. More importantly, grab a copy of the super limited double LP. The packaging is a piece of art including two heavyweight clear LP's, five postcards, two stickers, and additional artwork on both the inner sleeves and insert. You can pick up a copy here.