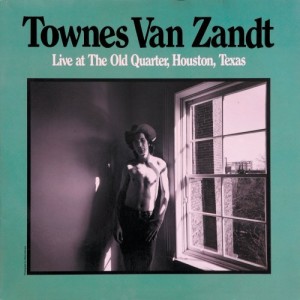 What can you say about Townes Van Zandt? The man is a lyrical legend. I get that you may not have heard of him, but that doesn't change the fact, folks. In fact, among music snobs, Van Zandt is a badge of honor. If you know the name, own the records, or quote the lyrics, you're in a secret club. They may even let you into that back stock room in your local record store. Singer-songwriter Steve Earle was once quoted as saying, "Townes Van Zandt is the best singer-songwriter ever, and I'll stand on Bob Dylan's coffee table in my coffee boots and say that." I've also read that Steve Earle denies ever saying that, but it doesn't matter. If a statement like that can even gain traction, there has to be at least something to it. Hell, I bet money you've even heard some of Van Zandt's songs, but you didn't even know it was Van Zandt.
It's hard to even narrow down a classic Van Zandt album. The guy has at least six albums that could be considered classics. In a pinch though, I'd lean towards Live at the Old Quarter House. As a live album, it shows Van Zandt in the raw. Just an acoustic guitar and Van Zandt's poignant lyrics fill the album. Van Zandt has a sound that is too country for the folkies and too folky for the country guys. His lyrics speak of lost love, heartache, outlaws, and loaners. The music is hauntingly stirring as it settles in your gut. I can't tell you how many times I've gotten drunk with Van Zandt. Fuck, the guy means so much to me. His low life introverted persona is the best drinking companion a guy could ask for.
Live at the Old Quarter House is packed with Van Zandt's best songs. Van Zandt's banter in between tracks has the slow draw of a barfly trying to talk a stranger into buying him another beer. The album opens with the classic "Pancho and Lefty." The soft acoustic tale of the bandit Pancho's death after he was betrayed by his partner in crime, Lefty. Van Zandt flirts with folk blues with tunes like "Brand New Companion," "Talking Thunderbird Blues," and "Cocaine Blues". One of the highlights of the album is "Rex's Blues" which, despite the title, isn't in the folk blues vein. Before the song starts, Van Zandt claims it was written for the owner of the Old Quarter House, which must have added some poignancy to the performance. It's a song not only about loss and desperation but accepting that loss and desperation. Frankly, it's a song I want played at my funeral. The album is not as downtrodden as I've painted it. "To Live is to Fly" is one of the most stunning song about perseverance I've ever heard. It's a song I sing into my two-year-old daughter's ear as I'm rocking her to sleep. It's a song with lyrics that, written and sung by anyone else, would seem like meaningless platitudes. When Van Zandt sings:
Everything is not enough
And nothin' is too much to bear
Where you've been is good and gone
All you keep's the getting there
Well to live is to fly, all low and high
So shake the dust off of your wings
And the sleep out of your eyes,
I feel something stir in my chest. I feel calmly at peace. I feel a belief in something, and I'm a guy who doesn't believe in much. "Lungs" is a deep finger picked backwoods number told from the point of a coal miner whose lungs are filling in with coal dust. I've struggled picking out the best tracks on the album. The album is filled, front to back, with masterfully written and charmingly strummed songs. Van Zandt is the benchmark by which all other singer songwriters should be measured.
Van Zandt has the booze soaked honesty of a man struggling with life. Needless to say, I can relate. This is an album you need to own. I don't give a shit what kind of music you like. Live at the Old Quarter House is an album on par with anything found on a list of records you need to own. An original copy of the album will run you sixty dollars and upward for a copy that is very good plus. It has been repressed and is available for about thirty dollars. Live at the Old Quarter House is a stacked double album, so you get your money's worth. It may seem like I have oversold this album. I didn't.
Read more: Townes Van Zandt – To Live Is To Fly Lyrics | MetroLyrics