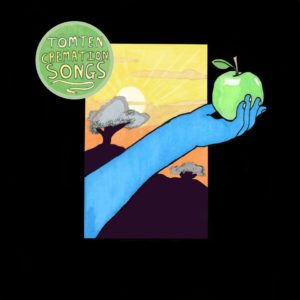 There is plenty to say about Tomten's new album, Cremation Songs. Over thirteen tracks, the Seattle based trio hints at plenty of influences. With keys inspired pop ballads, the band sounds like a mix of early-career Billy Joel with Paul McCartney style vocals and Moody Blues psychedelia.
Those are big names to throw around, but the band carries the weight and have the skills to cover lots of ground; from the slower paced ballad "Leaving Joyous Gard" to songs that sound like they were stripped out of a rock opera like "King of Viridia" which changes time signatures over a great melody. The vocal harmonies on this track add some great flavor as well. Another favorite is "Limbos Daughter." It's impossible not to love that flat key smacking sound that only an old fashion organ can make. The chorus is rich with the instrumentation and harmonies.
The album also has some unexpected surprises including a couple of interludes that break up the pace nicely. "Dieter" serves a smooth outro to the first half while "The First Song of Spring" is a fitting title, as if the listener is sticking their head out of a mountain cabin after a long winter.
The album does have a few missteps. There are times where the vocals get drowned out in the mix. Tracks like "Cloud Man Calling" would be perfect if we weren't struggling to decipher the lyrics. It will be interesting to hear the upcoming LP version of the album and see if this is different. There is also a sense of monotony towards the end of the album. Overall though, these points are easily forgiven. The melodies are great, the instrumentation is flawless, and vocals are solid.
Make sure to pick up a copy of Cremation Songs on July 7, 2017 from Plume Records.