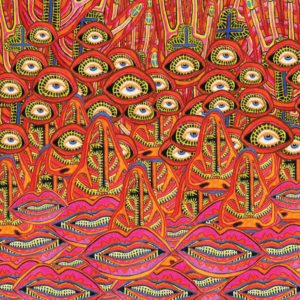 Tilly & The Wall are back!
It's been four years since Tilly & the Wall released their third album "O." For those who love the band, it's been an eternity.
The time away was well spent. While many bands take extended hiatuses to pursue solo projects, or because they cannot settle band differences, T&TW took the time to do some soul searching, get married, and have kids.
Lead singer Kianna Alarid made the most of the time and started writing.  She told Billboard ""I had started to try a couple things that didn't really work out and realized I like to collaborate no matter what. I had this confusing but ultimately beautiful trip in 2010 when I was just writing again and thought, 'I think these are Tilly songs. I don't think these go with the other things I'm working on.' So I called Derek and said, 'I think I have some Tilly jams' and he was like, 'I think it's time."
"Heavy Mood" opens with the lead single "Love Riot" which echoes their "O" single, "Pot Kettle Black." It's a great album opener which keys up the rest of the record well.
The familiar Tilly sound is still there, but the group has matured and dips into sounds that they have not explored on previous releases. The vocals have more effects added, a trend that started with "O.," but the effects are fitting and never overused. "All Kinds of Guns" has a very retro-vibe. Take out the fuzzed out guitar and familiar band harmonies and you could almost have a Camera Obscura single.
"Static Expressions" features some of Jamie Pressnalls' best tap-percussion yet.  Derek Pressnalls' vocals are excellent here as well.
The album does have some welcome slow points. While the group is well known for their great dance along vibe, we have always enjoyed their slower songs. Echoing "Tall Tall Grass" from "O," "Hey Rainbow" brings "Heavy Mood" to a wonderful melodic period that continues through "I Believe in You" which has some tap so soft, so subtle, that it almost sounds like rain is falling from the speakers. "I Believe in You" is one of the deepest and best tracks on this release.
Finishing out the album is "Defenders" featuring a great chant along "We're not afraid to live, were not afraid to die" and a children choir. It is a powerful song with a great message, and a solid way to wrap up the second side. The songs are great! The writing is fantastic. The musicianship is top-notch. The album is outstanding!
We have missed you Tilly & the Wall, and we are so glad you are back on our turntable.
The Vinyl
Team Love Records never disappoints when it comes to physical release and offered multi-options on the pre-order. Along with a yellow LP, the vinyl package included the Love Riot EP, featuring three remixes on black 12" and a cream colored 7" of "Defenders" with a remix on the B-side. The LP also comes with a CD copy. The LP is 180 gram with great cover art and lyrics sheet. It is also super affordable from both the BANDS WEBSITE and your local independent record store!