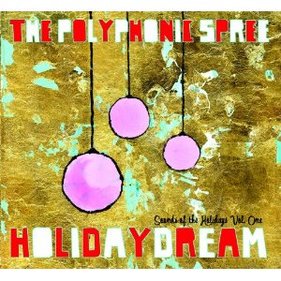 The Polyphonic Spree Deliver Christmas Early!
There are lots of things that come to mind when someone mentions The Polyphonic Spree. The choral symphonic powerhouse has done some amazing things since forming 12 years ago, including releasing three full length albums, a live album, several singles, touring extensively (both on their own and with big name acts), explored side projects, formed a huge diehard fan base, and is in the process of recording yet another full length album as well as producing two live albums all before next summer! Not bad for a band with 24 members.
The Polyphonic Spree do allot of things right, but there are three things they do better than anyone in the music business; live performances (if you have seen one, you get it), stellar vinyl releases, and Christmas. Even Santa can't touch the level of holiday cheer lead singer Tim Delaughter and company can bring. Attend one of their annual holiday extravaganzas, and you will experience this first hand.
For the longtime fans, the wait is over. The Polyphonic Spree has finally, after many years of rumors, pressed that holiday cheer into an album.
"Holidaydream" –Sounds of the Season Vol. 1 is here, and it's bound to grow any Grinch heart by three sizes!
This is no normal holiday album! While many artists release a collection of standard holiday cuts, The Spree took a better direction and decided to make these holiday classics their own, and recording some festive originals that have been staples of their Holiday Extravaganza's for years.
Classics "Let It Snow" & "Winter Wonderland" open the album, with a much slower tempo than usual. It is by no means somber, but put the listener in the mood to make up some cocoa and pray for snow. Leaning more to the traditional side, but with its own Spree treatment, "Chestnuts Roasting on an Open Fire" is one of the best tracks from the album. Following up is the previously recorded Lennon cover of "Happy Xmas" (War Is Over) and wrapping up the first side is a new take on "Silver Bells" which features the excellent contribution of School of Seven Bells. During the recording process, the band tweeted "Those Bells Delivered" and did they ever!
Side two opens with perhaps the best track on the album with the bands rendition of "Do You Hear What I Hear." This song was made for The Spree. With the choir echoing Delaughter's vocals, it's magic all its own and leads smoothly into "Carol of the Drum" (Little Drummer Boy).
The energy picks back up with the whistle along "A Working Elf's Theme" which just makes you want to start wrapping presents in October.
After a touching version of "White Christmas" featuring Delaughter's son singing along, a joyous rendition of "It's the Most Wonderful Time of the Year, " a reprise of "Silver Bells,"  and a beautiful instrumental, "Holidaydream," the albums wraps as every holiday album should with a reading of "Night Before Christmas."  
Without a doubt, this album should be at the top of your holiday playlist all year long. All we want for Christmas is Volume 2!
The Vinyl
"Holidaydream" is a joint release between the bands own Good Records and Kirtland Records. Both labels are vinyl enthusiasts and the release is one of the best packages we have seen all year. On thick colored 180 gram vinyl, a full gatefold with big pictures, digital download card, a jacket with full lyrics and pictures from holiday shows past, a poster, and silk screened card, the vinyl is something to be treasured. Allot of thought and love was put into this release and it shows! Those who download this album are really missing out!
You can buy the album from your local independent record store and online at Kirtland Records.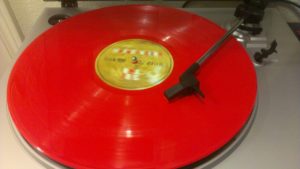 To catch the magic of The Polyphonic Spree's Holiday Extravaganza first hand, make sure to check them out this December.
12/6- Los Angeles @ Fonda Theatre
12/8- San Francisco @ Slims
12/11- Chicago @ Logan Square Auditorium
12/14- Philadelphia @ Trocadero Theatre
12/15 New York @ Webster Hall
12/22 Dallas @ The Lakewood Theatre
The Polyphonic Spree is also in the midst of a Kickstarter Campaign to help fund their next project! Some of the rewards are some sweet backer only vinyl!