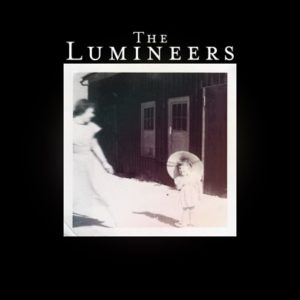 Late to the party…but so glad I came!
As most were, I was introduced to The Lumineers when they cracked the top 100 with their single "Ho Hey." Although I am a person that keeps a dedicated ear to indie music, and trust Pitchforks opinion more than anyone should, somehow with all the preparation for getting this website started, this one squeaked by me. That's unfortunate. The album came out on April 3 of this year and the wax followed May 1. That means I had several months to take in the greatness that is this album.
I will admit it; I have a soft spot for most folk music. If it's original, has a message, chances are I will dig it. The lead single "Ho Hey" was fun but didn't blow me away. It wasn't until I give "Flowers In Your Hair" a decent listen and found myself nearly in tears when speakers went silent. Not because it was so beautiful (oh, it is) but nearly weeping because it could have gone on for another ten minutes and I would have loved every amazing minute of it! I grabbed the phone, called up my local independent record store and demanded they order it as soon as possible.
Lead singer Wesley Schultzs' voice is great. It has its limitations, but the beauty of his voice is not his range, it's the honesty! Listen to "Dead Sea" and "Slow It Down" and he captures your imagination and plants it right in the middle of his subconscious. It's a great, warm and comfortable place to be!
Jeremiah Fraites and Neyla Pekareks' musicianship is stellar. Although Schultz holds down most of the vocals, Fraites and Pekarek are essential to this sound, without them, Schultzs' songs would sound uneven and weak, but with these two in the mix, the true depth of the band shines through, and you realize that something amazing has been built here.
It's so damn refreshing to hear artists like this. It's so great to hear artists not only playing their instruments, but playing them well, and not fighting for the spotlight to further inflate their swollen egos. Instead they play as a team, to achieve a sound that is only possible when they all contribute each of their talents in equal fusion. It's these kinds of bands, these types of albums that deserve to be treasured. It's these types of albums that show the artists truly cared about what they were making.
I cannot stress how essential this is to listen on vinyl. While I am of course always biased, the true presence of the strings are lost on the digital release. The depth of the cello, the upstroke of the mandolin, it's all there, and warm, and the way it was intended to be heard.
The Vinyl
While The Lumineers are certainly in great company on their independent label, Dualtone, the vinyl release seems an afterthought. Sure, it sounds great on 180 gram wax, but that's where the benefits of owning the wax end. There is no gatefold, no lyrics sheet, no pictures, just the album art and a white inner sleeve. The jacket is thin and other than the cover art it's nothing special. It does however come with a digital download and a coupon for Lumineers merchandise.
You can buy the album from your local independent record store, or from www.thelumineers.com