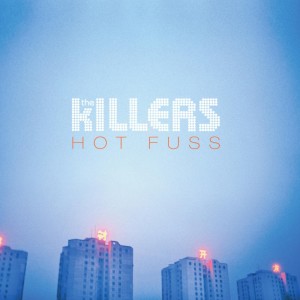 I took a hiatus from Joy's Jams the first part of the year while I focused on moving and a taxing job. During this time I found myself revisiting an album that has always motivated me to keep moving forward – The Killers' debut album, Hot Fuss. As I listened to the album in its entirety, it fell a little flat. I am used to the upbeat tempos of the album's radio singles. There is nothing terribly dramatic from one song to the next and The Killers never diverge from their layered, somewhat over-produced sound. But on a second pass, I can see why I subconsciously turn to this album whenever I need a little push.
As a staple on my running playlist for nearly a decade, I cannot hear "Mr. Brightside" without wanting to make a run for it—both literally and figuratively. The song provides perfect acceleration and motivation for running—it pushes me to take that next step; moving me further and further away from my comfort zone.
This song was playing on the jukebox when I was asked to take my first board position with the Saint Paul Jaycees. If I had known that accepting a position as the chapter's newsletter editor would eventually lead to me becoming the chapter's president a few years later, I may have ran. But I'm glad I didn't. Stepping up to the challenge and stretching myself brought many rewards; I made lifelong friends, met my husband and made a difference in my community.
The first half of Hot Fuss favors upbeat tempos. Songs like "Somebody Told Me" is another staple on my running mix. The driving bass lines hit the mark every time. Meanwhile, the lyrics and haunting melodies throughout the album draw me in. This is why I often turn to it in times of stress.
The simple themes – boy meet girl/loses girl/maybe murders a girl – allows singer Brandon Flowers to explore his conflicted feelings of falling for his friend's girl ("Mr. Brightside") and the rock & roll lifestyle versus his Mormon upbringing ("All the Things that I've Done"). Yet, the lyrics are still poetic enough to allow listeners to glean their own meaning. "Smile Like You Mean It" leverages eerie synthesizers and reverb on the vocals to create a haunting effect that makes me wonder what is under that "fake it until you make it" attitude. I can relate to the terror that often lies beneath the outward face. But its great advice – if you don't change your attitude, things will continue to suck.
"All These Things That I've Done" is my favorite tune from the album and it's the most solid. While the melody builds beautifully from the intro and accelerates into the main groove, the lyrics hook me. I can relate to the protagonists plight as he begs for someone to look beyond outward appearances and realize the struggle beneath the fake smile.
While I can see why Hot Fuss received critical acclaim (the album produced many singles, and garnered three Grammy nominations), the Killers' sound is not overly original. Their use of keyboards mimics the New Wave sound I love from some of my favorite 80s bands: the Cure and Duran Duran. Flowers must also really love these bands and wants to be like them so much that he fakes a British accent. I mean the dude hails from Las Vegas, for the love of God. However, the synthesizers, substantial lyrics and catchy hooks found in Hot Fuss make one motivational and fun album.
Joy's Jam Scale (Click here to see a description)
Nostalgia

Air Guitar

Sing Along