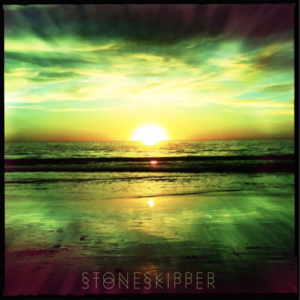 Stoneskipper is Topanga California native Brian Chapman and his band of revolving musicians and family members alike.  On his new self-titled 6 song EP Stoneskipper offers the listener a solid 30 minutes of beautifully crafted acoustic country oriented folk songs that would make the likes of singer songwriter Paul Simon proud.  The opening track "Crooked Line" begins with some sweet slide and pedal steel guitar accompanied by Chapmans smooth soothing vocals.  A true storyteller at heart Brian does a remarkable job at making the listener feel the love and pain he is describing throughout the songs. 
"Stay In These Arms" has a bit more of a laid back country flavor to it.  Again the lyrics are wonderfully written and sung with great compassion.  Band mate John Nau adds just the right amount of piano behind the acoustic guitar and moody vocal, which makes the whole song flow nicely. 
The next track "Hold So Tight" spotlights a great vocal harmony between Brian and vocalist Claire Chapman who is just one of the many family members who perform on the record.  This particular song also stands out with a lush arrangement of violins, viola as well as cello all played by musician Steve Kaye. 
The second side begins with "Can't Get You Out Of My Mind" which has a very James Taylor feel to it in my opinion. This track does kick it up a notch with some very anthemic drumming intertwined with a trace of Dan Ubick and his Wurlitzer electric piano. The lyrics again bring a smile to my face and are very contagious as I found myself singing along after just a few listens.   "Midnight Couchette" is next and continues on with a nice mix of folky melodies and sun drenched vibes that remind me of relaxing in a hammock on an empty beach. 
Finishing up the EP is the track "Looking For The Sun" which slows down the tempo just a bit finishing up with acoustic guitar again with musician John Nau and his Hammond B3 in tow.  It is a perfect ending to a really strong debut effort.  Totally self produced and put out without any label help this EP deserves some attention. It will be interesting to see what the future holds for Brian Chapman and his band Stoneskipper.
-Tom LeFevre