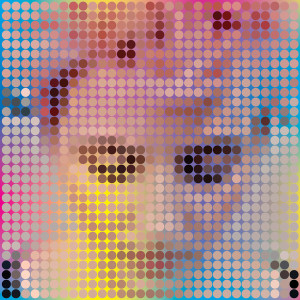 We were surprised to find another SPC ECO (Space Echo) in our queue so quickly after reviewing them earlier this year. We were left wondering what may lie in store. While we enjoyed the last release, we weren't ready to run off another review of the same material or left over studio cuts.
Luckily, The Art of Pop is neither. The album represents a pivotal shift from their previous work. What was multiple level guitars and noise has been stripped down to focus on the electronic elements originally hinted at with "Delusional Waste." While there were clues to this direction, The Art of Pop is a jump into the deep end of electronic focused art and dream pop.
While the sudden change could hurt other artists, this gamble pays of big time for SPC ECO. By minimizing the sound, lead singer Rose Berlin's vocals are brought into brighter focus. The chorus on "Hear Me Now" is the finest work we have heard from SPC ECO yet. Lyrically and musically, it has a vibe that is not only soothing but beautiful. The same goes for "Right Mind" with its subtle overdubs and infectious chorus.
The Art of Pop is just that, a pop album. While this sudden change proves that the band is unpredictable with each release, this album proves this may have been where SPC ECO belonged all along. The albums closer "Push" perhaps says it best; over a sustained drive of rhythmic intensity Berlin declares "Once more with feeling until you get it all." We like to think that's instructions for repeat button.
The Vinyl
The LP is released by our friends over at Saint Marie Records. Being vinyl collectors themselves, we are sure it will be an excellent production. It is super limited, only 250 copies, so make sure to grab a copy while you can from Saint Marie Records.