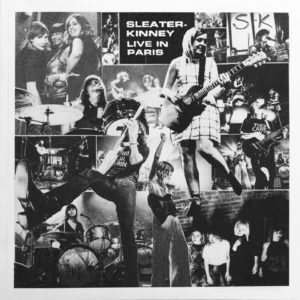 If you have read reviews here before, you are aware of my love for Sleater Kinney. From my discovery of my favorite band to my elation of their re-formation and album No Cities to Love it's a good bet that we will cover any SK related project. If Janet Weiss makes a concept album of Conch Shell Egyptian Hip Hop, I will likely cover it will all kinds of praise.
But I don't need to do that, because Sleater Kinney just dropped (rather quickly) their first official live album, Live in Paris via Sub Pop last week.
So how did they do? Amazing! Now, it's not just amazing because its Sleater Kinney. In fact, I am usually not a fan of live albums. They are usually poorly mixed, sometimes a lackluster performance, or worse yet, show just how studio dependent artists are. Not the case with Live in Paris.
The mix is excellent, courtesy of John Goodmanson and mastered by Greg Calbi at Sterling Sound. They captured the night brilliantly. The audience is non-existent during the songs, and in the mix just enough before and after each track.
The set-list and track selection were well executed as well. Spanning nearly all the bands releases, there is something to love to for new and old fans.
Tracklist:
Price Tag
Oh
What's Mine is Yours
A New Wave
Start Together
No Cities to Love
Surface Envy
I Wanna Be Your Joey Ramone
Turn it On
Entertain
Jumpers
Dig Me Out
Modern Girl
Of course, the real highlight of this album is the band themselves. Sleater Kinney is tighter than ever, nailing each chord, lyric and perfectly capturing the electricity that makes them such an amazing live experience. Even when Carrie and Corin don't quite hit their vocal harmonies right away, it serves as a reminder of their distinct qualities that make SK so unique.
So, we will end the love fest here, but take our word for it, it really is a great live album. Sub Pop didn't exactly swing for the fences in the packaging but the bootleg style of handwritten labels, and black and white picture collages give the release a very cool aesthetic. The Sub Pop "Loser" edition is on clear wax and is sold out. The black LP is available now. Pick up a copy now from your local independent record store or directly from Sub Pop.