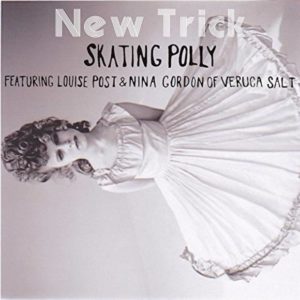 How cool is Skating Polly? Not only have they released several EP's and albums since forming in 2009, they have proven they can cover allot of ground, displaying Riot Grrrl roots at some point and delivering soft poetic pop the next. Kelli Mayo and Peyton Bighorse make it look easy, both being multi-instrumentists and trading off lead vocal duties.
Continuing to expand their sound, the band caught the attention of the newly re-formed Veruca Salt. Louise Post and Nina Gordon owned the show when it came to duo-female led rock in the late 90's. This collaboration with Skating Polly, New Trick EP is a match made in alternative rock heaven.
The lead single, "Hail Mary" is truly authentic in their grunge sound. There is no denying a distinct Nirvana influence. The vocals keep time with the sludge tempo but slowly builds energy before exploding just before the two-minute mark. Mayo's bass and vocals give an absolutely haunting transition before the final chorus rock the needle out of the groove. Tracks don't get much better than this. Crank it up till your ears bleed.
"Black Sky" is an undeniable Skating Polly song but Louise Post and Nina Gordon have injected a full dose of Salt. The bridge is awesome as all the instruments drop off Kelli Mayo comes in with her trademark deadpan vocal style before everything comes roaring back to life.
Rounding out the EP is "Louder in Outer Space." Peyton Bighorse leads this track vocally, showing her range. The ladies make great use of harmonies on this more pop track.
There is talent on all sides of this EP. Both Veruca Salt and Skating Polly are at the top of their games. It's collaborations like this that renew our faith in rock music.
The Vinyl
The EP is out now on El Camino Media, which also serves as home base to Veruca Salt. The 3 track EP is pressed on black wax with an etched drawing on the flipside of the 12".