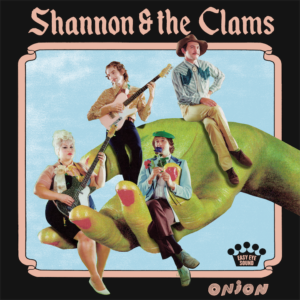 Grab your surfboard and suntan lotion and hop into the woody we are heading to the beach with a brand new album from Shannon & The Clams!
Onion is the upcoming fifth full-length album from the Oakland based quartet.  This time around Shannon & The Clams pack up and head out east to recruit producer and one half of rockers The Black Keys, Dan Auerbach to record in his Nashville studio Easy Eye Sound.
On the new record Shannon & The Clams have continued to blend a wonderful mix of throwback surf rock, garage rock, soul, doo-wop and even a bit of psychedelic goodness which ends up being a pretty memorable combination.
Shannon Shaw on bass and Cody Blanchard on guitar also divide lead vocal duties and the harmony they share is just superb. Backed by the steady rhythm of Nate Mahan and Will Sprott the band is as tight as can be.  From the first song "Boy" to the closer "Don't Close Your Eyes" the band draw you in with that sweet Dick Dale inspired surf twang combined with some contagious harmonies that continue over thirteen strong tracks.
Dan Auerbach's touch is certainly felt all over Onion which to me is something pretty special.  He certainly has become a pretty incredible producer over the years with a skilled ear for what works. 
The blending of fifties and sixties rock is just so timeless and works so well on this record.  Think Del Shannon, think Roy Orbison and The Beach Boys. Think hot rods drive-ins and malt shops. Think about bonfires on the beach and drift back to a time of innocence and fun.
Catchy vocals are all over this album, the kind of songs that get stuck in your head and keep you singing all day long.  Shannon Shaw's strong raspy vocals are such a standout that she would make Etta James proud.  Shannon knows how to belt out a tune and command the song.  She just has that certain something that all vocalists strive for.  She is a natural that's for sure.  Listen to her strut her stuff on the track "If You Could Know" and the sultry "Did you Love Me" the flow she demonstrates is just right on point. 
Cody Blanchard certainly has tremendous talent as well.  His songwriting is top notch.  Song after song I continuously found my head bopping uncontrollably.  Immediately after my first listen of Onion I can honestly say I love Shannon & The Clams!  I love the songs, I love their style, I love the twang and the reverb, and I just love it all!  They represent that whole vintage retro scene with such charm and finesse. 
Onion left me wanting more.  Soulful and familiar sounds are what made rock and roll what it is and Shannon & The Clams get it.  They are gritty and emotional yet powerful, poppy and fun and that makes this a fantastic record.  Make sure to get yourself a copy on February 16 when it is released on Easy Eye Sound.
-Tommy Fever