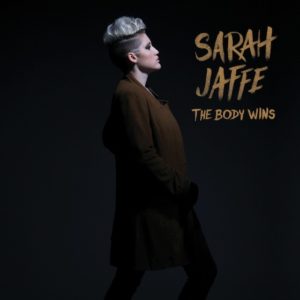 Sarah Jaffes' second full album represents a new direction, and we love where it's going!
So often in todays music industry, we are spoon fed single after single, rather than entire albums. It's the digital agenda to push the singles in order to drive sales. What is lost in this business model is the album concept. Artists are pushed to create the radio/streaming friendly singles, and when they have enough, cram them on an album with half a dozen other lackluster b-sides. This is where some great artists suffer, and where some mediocre thrive.
Sarah Jaffe has chosen another direction. After her first genious album, "Suburban Nature" in 2010, Jaffe began redefining her sound, and in 2011 delivered the transition EP, "The Way Sound Leaves a Room." This concept forces you to listen to the album, as it is intended, to search out the sound you were so familiar with before. The sound is still there, but it has been taken to a new level of listening. With "The Body Wins", the effects are brought into the mix, the bass is heavier, the strings (always love to hear Progressive Strings in the mix)  and horns jazzier, but Jaffes' unique voice shines stronger than ever. Her vocals are cleaner, stronger, and more defined. It's great to hear her sing more sustained, than the airiness that was so essential to Suburban Natures' sound. The arrangements once again rest in the hands of some of the most talented musicians recording today, many of which return from the previous releases. Fiona Brice deserves a huge credit here for the arrangements. The songwriting, all by Jaffe, remains to upmost caliber. John Congleton is once again at the helm, and his production never ceases to amaze.
The Vinyl
Our hats are once again tipped to Kirtland Records. (www.kirtlandrecords.com).
The Dallas based label has always delivered their vinyl releases in a timely manner, with excellent cover art, lyric sheets, liner notes, and of course 180 gram vinyl. The Body Wins is no exception, with plenty of extras, pictures, and a digital download card. It makes a great addtion to our other Jaffe favorites, Suburban Nature and the self released Even Born Again EP.
You can buy the album from your local independent record store, or from www.kirtlandrecords.com