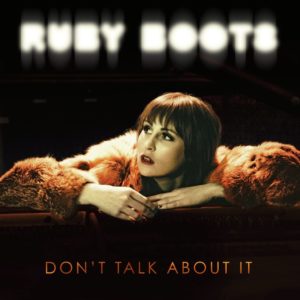 A lot of current Americana singers have that glossy pop country sound. They churn out that sort of bland music that could be playing in the background in a grocery store or elevator. However, there are some hidden gems in the folk and Americana scene that should not be slept on. Ruby Boots is one of those glistening jewels. The Australian singer/songwriter's debut album Solitude was released in 2015 on Lost Highway Records Australia, which put her on the map. It's interesting that her label was named Lost Highway because her sound could certainly fit into the backdrop of a David Lynch film. 
Her sophomore album, Don't Talk About It, drops February 10 on Bloodshot Records and it shows her in fine form. A mix of Susanna Hoffs and Cyndi Lauper, her sound has that effervescent 80s feel with a dash of millennial angst peppered in for good measure. The 10-song LP is a cool combo of kitschy melodies and vocal dewiness. The first two tracks, "It's So Cruel" and "Believe in Heaven," sound like they could have been on a Go-Go's album. Carefree and assured, they sweep over topics of love and heartache with a light stroke. The songs address female independence, the excitement of love and the unpredictability of relationships. The most banal of the tracks is "Infatuation." It's an arid, hyper-pop take on being infatuated.
While all of the songs on the album are entertaining, Boots is in danger of being a one-note pony in that a lot of her tunes sound similar. Luckily, she does mix it up with tracks like "I Am a Woman" and "Don't Give a Damn." Her second album illustrates that she has her own unique sound that captures Americana in a nuevo-retro way. Her lyrics aren't overwhelmingly original, but her sound is infectious and worth a listen.