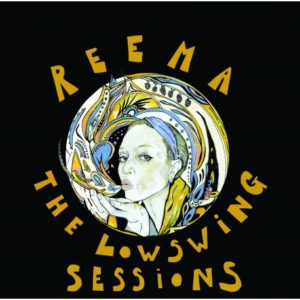 Amazing things happen when worlds collide. I personally love the singer/songwriter genre, especially those from the folk fold. It's raw passion, laid out on a track, vulnerable and honest, and when it's done right, it cuts to soul of the listener. I also have a special appreciation for those who commit themselves to recording in analog. The analog sound is unmistakable, especially in today's digital production majority. Much like the singer/songwriter genre, its pure, has depth and you can't cover your mistakes. With these worlds coming together, it's no wonder I have fallen in love with the new EP from Reema, The Low Swing Sessions.
On the opening track, "Night," Reema's tone ranges from soft alto to following the moving strings down the rabbit hole of this dark jazzy track. The analog depth is incredible, especially as the track progresses, reaching low and high tones that a digital track just can muster. In the same spirit is "Silence," with the vocals bouncing across the strings. The last half the song is pure magic with the bass clarinet and sultry tone.
Reema's vocals are flawless on "Killer," but we love the unpolished feel, hearing the consonants being formed and breaths the microphones pick up.  Reema bares her soul, just her and the guitar, pouring her heart out. Lyrically, the track is a journey, from heartache to gaining independence and acceptance. While many artists would have slowly added more instrumentation, Reema keeps the personal connection and uses the songs energy, bringing the first side, and the best song of the EP to a close.
The best lyrical work comes with "Four Letter Words," asking "How can you love me with so much hate? How can I love you and long to escape?" Reema makes great strides in melody and instrumentation, bringing in trumpet and strings. The bridge builds energy on all levels.
"What the Whisper Said" is the single from the EP. The arrangement on this track is fantastic, with each instrument seeming to play their own refrain off Reema's vocals. It's a beautiful duet.
The Low Swings Sessions is excellent. Recorded, mixed and cut directly from tape, the analog beauty remains and gives plenty of room Reema's talent to shine.
You can pick up a copy here, but you better hurry, it's limited to only 500 copies and the hearing it digitally does not do it justice.