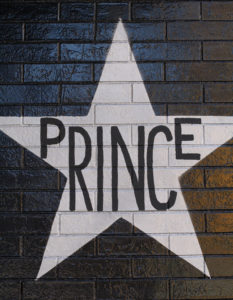 This isn't an installment of Joy's Jams. It isn't about memories from a single album. Instead, it's about a single artist whose music played in the background throughout my childhood, only to be brought to the forefront in my adulthood.  Watching and hearing all the tributes to Prince makes my heart heavy for the loss the world felt this week.
I was late to the Prince Party. Growing up in Montana the Purple One didn't penetrate popular culture like he does Minneapolis. Of course, his songs were a constant on the radio and MTV. His videos weren't on Head Bangers Ball and his face was not in the pages of Metal Edge Magazine so I didn't pay much attention. However, I remember how cool I thought it was when my parents told me that Prince was from Minnesota; the same place my family is from. As a kid, I never missed an opportunity to tell my friends my parents were from the same place as Prince.
Now after living in the Twin Cities for nearly 15 years, where Prince is a part of everyday culture, everyone has their "this one time when I saw Prince" story. Yet, I never had an accidental meeting and didn't have any memories of late night parties at Paisley Park. These stories of epic, late-night shows added the Paisley Park experience to my bucket list.
I was almost too late that for that Prince Party. I attended my first and only concert at Paisley Park exactly three months before his passing.  I am fortunate enough to be among the few that saw the Prince and His Piano show when he tested the format at his home. It was truly breathtaking to be standing next to some of my closest friends in the world and see such a raw, intimate performance. When he told the audience that night was the first time he ever was on stage alone, I got goose bumps and my jaw dropped in awe. I looked over at my best friends and they shared the same look of pure amazement and enjoyment. I will be forever grateful to have shared that moment with them.
Prior to that night, I always equated Prince to dance music because I don't know any other song that can get people on their feet, shaking their ass faster than "Let's Go Crazy," or any other Prince song for that matter. However, when I think about Prince, I see him holding a guitar. Up until that night, I had forgotten what an amazing singer he was. That voice, that range, that talent captivated me as I stood less than 100 feet from him.
I was late to the Prince Party again when I heard the news of his passing. Traveling for work, I missed the outpouring of support that flooded the streets in front of First Avenue in downtown Minneapolis. As I boarded my flight home, I cried when "Purple Rain" came on my iPod. This song possesses one of my all-time favorite guitar solos. The person sitting next to me on the airplane must have thought I was crazy as I busted out my air guitar, misty eyed, to music only I could hear.
Everyone says Prince is an icon. Duh. He is a legend whose influence is so vast and deep it is hard to find the right words to describe the awesome talent that embodied Prince. It's even harder to find the right words to describe the loss. Yet again, I was late to the Prince Party realizing just how vast his influence spreads through everyday music. Of course, I knew that he wrote for the Bangles, Sinead O'Connor, Stevie Nicks etc… but in the days following Prince's death the local radio station played every single one of his songs. Somehow the tracks I had never heard before sounded so familiar. The guitar sounds flood the rock music I love from today's new artists.
Prince's legacy goes beyond his famous songs. For me, his legacy is his humility and ability to constantly stay relevant while promoting and building up other artists. Think about how great of a world this would be if everyone took a page from Prince and supported those around us while being ever eternally thankful for what we have and those who supported us.
As a music lover, the last four to five months have been rough. I've mourned the loss of Lemmy, Bowie and now Prince. My heart hurts at the idea of the world losing such creativity. But I know Prince's influence will live on as new artists find his music. His memory will live on in every impromptu dance party I share with my girlfriends and every time I enjoy a show at First Avenue.
– Joy G.