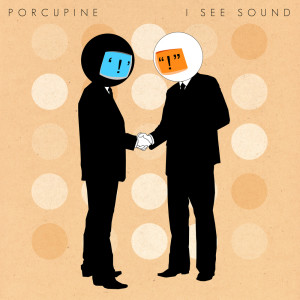 When we last heard from Porcupine, we learned once again what real alternative rock was supposed to sound like. The three-piece impressed the hell out us with their last release, The Sensation of Being Somebody, which delivered a mixed bag of influences, and showing their dynamic range.
With their new EP, I See Sound the formula remains the same, and that is what makes it great. Tracks like "So Serious" have elements of the later Stone Temple Pilots sound while "The Answer" has a punching drum and bass melody right out of the Queens of the Stone Age playbook.
While the influences are everywhere, Porcupine remains distinct in their sound, especially with lead singer Casey Virock's vocals clawing its way to the top of the mix.
It is great to hear that Porcupine is still following only the rules they lay out for themselves. No matter the direction they are headed for the next full length, we are on board.
The Vinyl
Following up on the excellent vinyl release of their last LP, I See Sound is pressed on pure white wax and includes full color artwork. It is a limited edition of only 500! Being an EP, the B-Side is blank, which gives you a excuse to adjust your anti-skate setting on the turntable. You can pick up a copy from your local independent record store or directly from Riot House Records.
httpv://www.youtube.com/watch?v=XEEZzUHTTHQ
[really_simple_share]