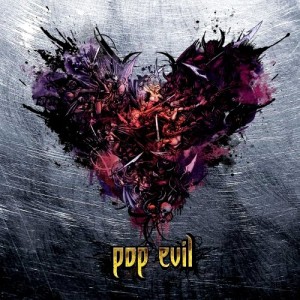 The first time I ever saw Pop Evil in concert was at Rockfest, in Cadott, WI in 2013. At the time, "Trenches" was playing non-stop on Sirius XM Octane, but I lacked familiarity with their other songs. From the second the band took the stage, their energy was contagious. While the crowd for the afternoon set was small, it didn't stop Pop Evil from bringing it. Lead singer, Leigh Kakaty ran out into the seats and owned the audience. Then and there, Pop Evil created a fan for life. With the June 1, 2015 release of their new single, "Footsteps," and Rockfest just a month and a half away, I figured it fitting to revisit an older album from their catalog, War of Angels.
Rockfest is a great home for the fun and raw emotion that Pop Evil represents. Every time I hear a Pop Evil song I think about the wild party that spans four days in the middle of nowhere Wisconsin. The crazy fun and genuine feelings that run through every Pop Evil song are matched by the crew of people I have met at Rockfest throughout the years.
You can't dismiss the level of artistry that strings together War of Angels, or any Pop Evil album for that matter. Like Rockfest, War of Angels is a wild ride. War gets the party going by kicking off the album with the high energy songs "Last Man Standing" and "Epitaph." Then, ballads like "Monster in Me" and "Purple" show a softer side of the band; just like the late night campfires at Rockfest reveal a more vulnerable side of fellow campers/rock fans.
War of Angels continues the roller coaster ride by bringing the intensity back up with songs like "Daisy Chain" and my personal favorite "Boss's Daughter." Guitar great, Mic Mars of Mötley Crüe, co-wrote it, so the air guitar opportunity is off the hook. The sweet guitar riffs and heavy sound that dominate War make this a must own album for any fan of fun, hard-rock music.
According to Wikipedia, War of Angels refers to the struggle people experience when trying to put the past behind them. Nearly every song on the album portrays these battles. While the lyrics are strong and beautiful, I don't listen to Pop Evil for the lyrics. I listen for the fist-pumping, head banging, in-your-face rock and roll.
Live music holds amazing power. The energy can't be replicated on any recording. Live music stirs emotions in me that cannot be contained. The party environment of Rockfest provides a great outlet for all that energy. The acoustic, live version of "Purple" moves me nearly to tears as Kakaty pours his heart out on the stage. Meanwhile, the studio production on War loses the raw emotion. However, an acoustic version is available on the deluxe version of the album.
I am really looking forward to Pop Evil's next album, which drops on Aug. 21, and seeing them again at Rockfest this year. But what I am looking forward to more is the time that Rockfest provides me to party with some of my best friends and Pop Evil to provide that powerful performance that will leave me keyed up to party into the wee hours of the morning.
Joy's Jams Scale (Click here to see a description)
Nostalgia
Air Guitar
Sing Along
It should be noted that War of Angels is not available on vinyl, but Onyx is.