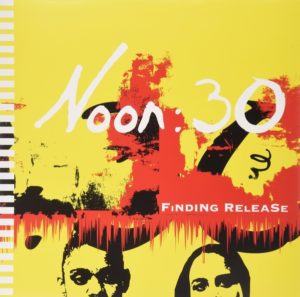 Reviewed by: Darrell Phipps
The female duo that is Noon:30 has been busy. With Finding Release they have put themselves out there without giving an F to no-one. This quick EP has 4 songs on Side A and 3 remixes of songs on Side B. If you're a fan of Bjork or Atari Teenage Riot–Noon:30 fits right in there to bridge the gap!
Finding Release starts very pleasantly with the song "Dream." The 2nd song is all acapella and is properly named "Interlude," which takes a turn from a happy place to dark clouds in the forecast. The lyrics in this song triggers the listener that the rest of the record is a storm to be prepared for. It feels like going through a break-up. The aggression and angst in "Rodeo and Gun" really make this album work.
Even though the song "Gun" is more abrasive than "Interlude," the vocals reminded me of a Lana Del Rey song. Belted out with more breathy confidence.
The Side B remixes were much different. They have 2 of "Gun", and sandwiched in the middle is "Rodeo." With a lot more drum and bass, the first remix didn't add anything for me. The "Rodeo" remix however is great! It just made it more appealing and dove into the industrial genre a little bit more. I don't know if Noon:30 intentionally were making an homage to Salt-N-Pepa with their chorus hook "push it real well" but that is what it reminded me of. Another thing I enjoyed about the "Tunabunny Mix" of "Rodeo" was the video game like sounds thrown in the background. The last remix of "Gun" ends pretty haunting, it ends the record in an eerie mood. This plays like a musical resume of what Noon:30 is capable of. 
Available on HHBTM Records. Seek it out, it's so off the beaten path your turntable will thank you.