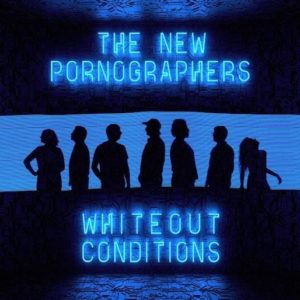 It's been a few years since Brill Bruisers came, making it prime time for A.C. Newman and his musical collective, The New Pornographers to deliver another album of power pop goodness. A few years back the band released Brill Bruisers, with a sound more reminiscent of their grand power pop of earlier works rather than the slower ballads that defined Challengers and bled over into 2010's Together.
On their latest LP, Whiteout Conditions, the band has once again opted for a more electronic pop sound, building on the foundation Brill Bruisers established. This time around they are maxing out the influence, most evident on the opening track "Play Money" that is thick with synthesizers that overtake the track before Neko Case's vocals jump in mix and try and take control.
A.C. Newman takes control on the title track, opting to strip away the unnecessary vocal effect when Kathryn Calder joins him on the chorus. Calder's contributions to the band are often overlooked, her name constantly come behind Neko Case. The first single, "High Ticket Attractions" is a standout of the album, delivering fantastic energy and vocal work between Newman and Calder. The writing has the same A.C. Newman cryptic style that he is known for.
The first real changes of the LP come with "Second Sleep" which really swings for the fences vocally with three part harmonies, led by Newman and supported by Case and Calder.  The whole track feels like it is building up and ready to explode with Sonic brilliance, but it fades off before relieving the tension.
Perhaps the finest track is the only true ballad, "We've Been Here Before." Newman, Calder and Case are a vocal trio made in indie rock heaven. And while it's still keys based, the vocals keep focus in this slower tempo ballad.
Unfortunately for all its pop goodness, and dance friendly melodies, Whiteout Conditions suffers the same pitfalls that plagued Brill Bruisers. Many of the songs sound rehashed, forgotten shortly after the next song starts. While there are some great tracks, it's nothing that hasn't been done before. There is so much potential in this musical collective that we expect the band to stake out some new territory. Maybe we hold The New Pornographers to a higher level than other bands, but the bands direction seems to reflect A.C. Newman's current influences, and lately he seems to be in a rut.