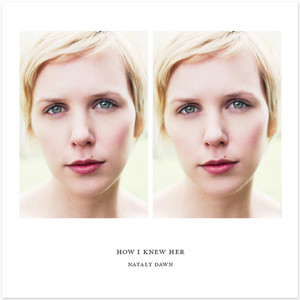 The Voice of Pomplamoose Delivers Her Second Solo Effort
You already know Nataly Dawn. Even if the name doesn't ring a bell, you know her voice. There are very few in the indie-rock world as trademark as hers. It was this voice that launched her band Pomplamoose into YouTube superstardom.
It was only a matter of time before Dawn took that voice solo. Following up her first solo effort, an iTunes only *sigh* release, "Her Earlier Stuff," Dawn is taking the leap into a full physical release. It is a safe bet, considering that funding of the album came from an amazing Kickstarter effort that landed her more than five times her original goal! With funds in place, Dawn teamed up with fellow band member Jack Conte and recorded "How I Knew Her."
The opening track, "Araceli" still has plenty of that familiar airiness that made Pomplamoose so intriguing. Of course Dawns vocals are their usual tender and soft but are more commanding. The same could be said for the follow up, "Leslie."
The first real change comes with the title track. Introducing some darker tones as well as subject matter, Dawn has swapped out the hand claps for a more solid rhythm section. What is so interesting about Dawns' voice is that she maintains such perfect pitch wile sounding like she is never trying. She doesn't have to push too hard when her voice has such natural smoothness.
"Back to the Barracks" is more stripped down but more bluesy that any of the previous tracks. With just an acoustic accompaniment and Dawns swooning vocals, we find ourselves swaying along to our favorite track of the LP.
With most of the music elements finally at full throttle, "Long Running Joke" is one of the strongest cuts. While Dawns' style has always been minimalist, the vocals are determined and delivered strongly. It is the extra effort and push of the vocals that show Dawns' true potential.
The gears begin to shift with the swinging retro sounding "Caroline." It also features the best lyrics of the album, but the real gem is the follow-up "Please Don't Scream." Finally, here is the Pomplamoose sound that so many kickstarter backers were waiting for. Make room for those hand claps and overdubs!
With the energy flowing steady, some horns are added to the mix with "Still a Believer." This song is about judgment, and is brilliantly written and produced. The keys take the wheel and dare us to just try and stop dancing.
Dawn mentioned in the previous track that this was rock music, but she finally proves it on this track! Pushing her voice to its full potential, it's clear that the old rule stands; hell hath no fury like a woman scorned. Luckily, it also makes for great lyrics!
"Why Did You Marry" is another favorite of ours. While it returns to somber tones, and the reoccurring subject of judgment, the song has us wondering if Dawn is the protagonist of the muse. Either way, it's a killer track.
The last track, the demo sounding "I Just Wanted You to Get Old," sounds deeply personal for Nataly and she has sent the band home and wrapped the LP with just her and her guitar. The album could have concluded well with the previous track, but the song has its own beauty with its unfinished feel.
"How I Knew Her" is bound to please both hardcore fans of Pomplamoose and new fans as well. Dawns' raw vocal talent and solid musicianship will sell this record. It is talent like this that can sell more records than any pop star publicity stunt could dream of. This is still a relatively somber record, perfect for coffee shops. There are some moments of repetitive that have us searching for the skip button, but all is forgiven when we hear Dawn step out of her Pomplamoose shadow and really push the energy and emotion in the stronger tracks. All in all, a great record and we are looking forward to more.
The Vinyl:
The vinyl will be released this week and we will update this review as soon as soon as we get our hands on a copy.
Make sure to pick up "How I Knew Her" at your local independent record store or the Nonesuch Record Website.
httpv://www.youtube.com/watch?v=IgQ1-OFkonU