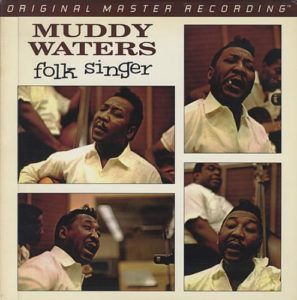 I know what you think of when you hear the name Muddy Waters. You picture generic early blues music with primitive guitar riffs with a guy yelling over the top like he's trying to pass a kidney stone. Or maybe you'll say you're a fan because you enjoyed him in the Cadillac Records movie. To chalk Muddy Waters up to these blues music tropes is too simplistic for a fairly long and complicated career.
Waters did play a form of stripped down electric blues for the majority of his career. That's what he is best known for. And he should be. Songs like "Rollin' Stone," "Rollin' and Tumblin'," and "Catfish," are blueprints for what not only blues, but rock and roll, would become. Like many other African American artist of the time, Waters was marginalized in his role in shaping rock and roll, and he wasn't compensated appropriately. When music influenced by Waters started to become the dominant music of the time, Waters recorded albums to cash in. The most famous example is Electric Mud, where Waters plays like Hendrix who is playing Waters. It's not a bad album, but it's not a great album. The problem is that it feels derivative. It feels derivative though because it is as if Waters is imitating his own music. It didn't work.
Folk Singer by Waters is a whole different story though. Folk Singer came out in 1964 (four years before Electric Mud) and was meant to play on the then current fad of folk music. Folk Singer is an acoustic folk blues album. A young Buddy Guy plays second guitar, Bo Diddley's drummer Clifton James sits in on the skins, and bass duties are handled by the Duke Ellington of blues music: Willie Dixon. Folk Singer does not feel derivative in the way Electric Mud does because it's not Waters doing an imitation of himself. It is more of Muddy giving his signature sound in a new format. The music is played in hushed acoustics, as opposed to the primitive howling of Waters' previous work.
Most of the tracks were songs Waters' had recorded before, but the reworkings are fresh and imaginative. What the originals gave in thundering power, the acoustic versions give in soft rumbling tones. The space on the album is just as important as the music itself. There are no bad tracks. The opening cut, "My Home is in the Delta," is one of Waters's signature songs. The slide guitar is slick and smooth over the punch of the snare drum. Waters' vocals are booming and full of power. That booming voice is most evident on "My Captain" where the music is sparse. "Good Morning, Little School Girl," is a foot stomping, hand clapping back porch rocker. "Big Leg Woman," is a driven by a steady thump and celebrates the women that make, "a bulldog want to hug a hound," and "leave you crying for more." Originally cut for vinyl, the album is meant to be taken as a whole, one continuous piece of work.
This is an album that will truly test the depths of your audio equipment. The highs are high, and the lows are low. Folk Singer is not just for fans of blues music or folk. It's for musical historians, people interested in audio fidelity, and people who just like good music. This album has been repressed multiple times on vinyl. You can find copies for as low as $20, and it is money well spent.
-Andrew W.