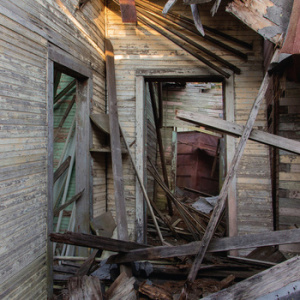 Instrumental albums are usually background noise to me. It's not that I am not a fan of instrumental music, but I am a lyricist at heart and therefore put a lot of focus on that. So, after putting Moyamoya's new self-titled LP on the turntable, I found myself patiently waiting through thrashing guitars and melodic melody for the sure to come dark vocals. Would it be melodic? Hard core screaming? The answer was neither, there are no vocals.
It's not a gimmick. After dropping their lead singer, the band decided to go at it as an instrumental group, something that is not easy to do and maintain relevance. However the avenue works incredibly well for Moyamoya for a number of reasons. First and foremost, these guys are solid as hell musically. While the band played musical chairs on instruments while trying to find their sound, each member delivers solid performances throughout the album. Just listen to the ending of "Spurgeon Haddix" and you will realize that the group members are each in their own elements but gel perfectly as a whole.
Moyamoya is not for the weak of heart. This isn't background elevator music. This is intense, thrash infused garage rock that changes time signatures and melodies faster than the listener can keep up. The six tracks are more movements of feeling rather than individual songs.
What really stands out is the emotion in the songs. Sure, there are no vocals to relate to, no love stories gone wrong, no lyrics of longtime struggles and drug addictions. The emotion is in the music, and it is unique to every listener. No doubt these songs can resonate all kinds of feelings; defeat, rage, enlightenment, triumph, it's all there, waiting for you to take your own ride with every spin.
The Vinyl
Released on limited edition colored vinyl, the album comes with a digital download card, and full color jacket. It is limited to 500 copies so get yours now from Fort Lowell Records or your local independent record store.