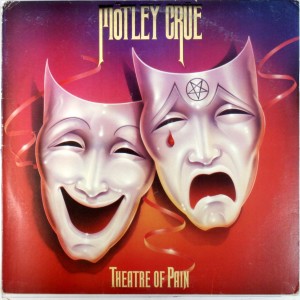 With Mötley Crüe wrapping up its final North American tour last weekend, it's only fitting that I revisit one of their albums. The Crüe provided the background for some of my favorite memories. Whether it was watching Headbanger's Ball and playing Barbie® with my best friend or going back stage for the first time, Mötley Crüe's songs tell a story of friendship – one that endures after nearly 30 years of stumbles, wins and freakin' good times.
Theater of Pain is the first Mötley Crüe album I owned and it inspired me to pick up the air guitar, because every song gives Mick Mars a chance to showcase his mad guitar skills. Musically, Theater of Pain marks a shift from heavy metal to more radio-friendly glam rock. For me, it marked a shift from listening to my parent's music to finding my own life shaping groove.
The album is filled with typical rock themes of sex, drugs and rock and roll; complete with rallying cries in songs like "Raise Your Hands to Rock." The blatant sexual innuendo of "Tonight (We Need a Lover)" is laughable. As kids, I don't think my friend and I had any clue what the lyrics meant as we were too busy debating which member of the band our Ken doll would represent while trying to fit him into Barbie's hot pink pants. As adults, we seem to care more about rocking out than to what words we sing.
Listening to the entire album, you can hear dysfunction settling into the band. Recorded just after Vince Neil's manslaughter verdict, Sixx's drug-riddled lyrics reflect the hopelessness he feels in dealing with his addictions in "Save Our Souls." Meanwhile, songs like "City Boy Blues" and "Use it or Lose it" show his overall frustration and desperation with the drug culture in Hollywood.
Mötley Crüe anchors the midpoint of the album with a change in tone, giving us a song that could be the poster child for rock ballads, "Home Sweet Home." My friend and I spent many a slumber party quizzing each other as to what was happening at any given moment in the video. Nearly 30 years later, I can still tell you that when Vince Neil sings the words "home sweet home" for the first time in the song, there is a chick that lifts her shirt and just as she is about to show the goods, it cuts away to Tommy Lee's wide-eyed reaction.
Theater of Pain is not one of the Crüe's better albums. It feels musically uninspired and a bit of a letdown as a follow-up to Shout at the Devil. Nikki Sixx has said that the group was too out of it during the recording to make any of the recommended improvements. But that doesn't stop my girlfriend and me from rocking out to "Keep Your Eye on the Money" and "Louder Than Hell" on every girls' trip to Chico Hot Springs or Red Lodge, MT.
Today, Theater of Pain is my least favorite Crüe album; my mainstays are Dr. Feelgood and Shout at the Devil. I can't hear any Mötley Crüe song without remembering the look on my friend's face the time Nikki Sixx spit into the audience and it landed on me at our first Crüe show. While Theater of Pain may not be the Crüe's best work, I can't be overly judgmental because it fueled a drama free friendship for nearly 30 years. While Mötley Crüe calls it a day, I feel like our party is just starting.
Joy's Jam Scale: (Click here to see a description)
Nostalgia:
Air Guitar:
Sing Along:
(After so many years, I'm as pitchy as Vince Neil)