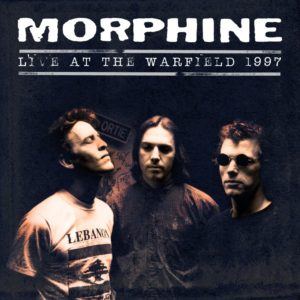 "Good evening everybody, welcome to our show. We are gonna play about 20 songs for you people tonight. Old ones and new ones, and some that we don't even know. Ladies and gentlemen, from Boston, Massachusetts, we are Morphine at your service."
With these words Mark Sandman opens Live at The Warfield a previously un-released live recording recently unearthed by Run Out Groove. Recorded in the middle of a grueling tour to promote Like Swimming, and shortly before Sandmans' tragic death, the album catches the live experience of Morphine perfectly.
The LP was mastered from the original analog tapes and the results are evident throughout the album. The deep rich sound of the band, especially the low baritone saxophone is given depth on the LP, most evident on the opening track, "Potion." Sandmans' laid back vocal style is best represented on "Empty Box," switching between low tone crooner to spoken word.
The third side opens with punch, the bands most successful single, "Honey White" is fierce and solidly delivered. The saxophone work on "Early to Bed" is top-notch with Dana Colley making use of effects.
Morphine closes with "You Look Like Rain" which wraps the second encore with some soothing vocal harmonies.
Run Out Groove continues their commitment to producing top-shelf vinyl releases. Pressed on two black 180 Gram discs, the release includes a tip-on jacket courtesy of Stoughton Press. An original watercolor by Sandman is featured in the gatefold.