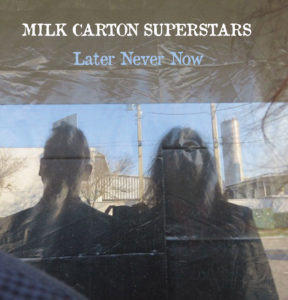 One word comes to mind when after taking in our first listen of Milk Carton Superstars new album, Later Never Now; balance. It's a hard thing to do in music. Whether an artist is pushing a style, a message, or both, it's a dangerous game that must walk a fine line. Go too hard and it's overbearing, too light and the messages intent is lost in a world of metaphors and cryptic song writing.
Milk Carton Superstars are not walking that tightrope, they are running across with great confidence.
Late Never Now strikes just right balance. Lyrically they touch delicately and sternly on everything from political frustrations (The Infinitely Sad Kitchen Towell), musical influences (Hey Throwback) and even their frustrations with corrupt attorneys (Litigious Honey.) There are also songs overflowing with nostalgia (Prayers in French) and anthem laden tracks about the eventual leaders of a post-apocalyptic world being the artists of today (The Artists Will Take Over).
The same balance is found musically. While Milk Carton Superstars (Guy Larmay and Jim Myers) are pop-rock at their core, they know how to hit all the points in the genre. While some tracks like "Prayers in French" have a good smooth groove, they are not afraid to kick the amp and thrash on a couple tracks as well.
While Later Never Now doesn't have a central message, at least in this reviewer's opinion, it does succeed in crafting a collection of meticulously balanced pop rock tracks. No two songs are the same. There is no filler here. Supporting the duo are some top shelf musicians including several prominent members of the Orlando music scene.
Our favorites from the LP include "The Artists Will Take Over," a pop-rock standout with a thick guitar lead. The track has great melody changes with great stops and hand claps. Lyrically the track delivers as well stating, "That's why the artists will take over before the end of the world, and the freak will be the last flag to be unfurled." How can you not love lyrics like that?
Another one of our favorites is "Prayers in French." We love the keys on this track. Myers vocals strike just the right tone. It's a simple story, but the song is beautiful.
We cannot recommend this album enough. Make sure to grab a copy from the band here.