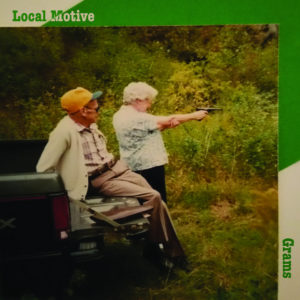 It seems that allot of bands these days are trying to be everything to everyone. It makes it difficult as a reviewer and consumer to try and find a bands message and direction when their sound runs in every direction to please an expanded audience.
Luckily, Local Motive is not one of those bands. The Chicago, IL group is firmly rooted in soul old school R&B. While plenty of their tracks are peppered with other influences, they never move too far from center making for a fantastic listen of their new record, "Grams."
"Grams" is a collection of songs from two camps. First, is the textbook delivery of classic genres of both soul and R&B. Lead singer Daniella Rojas deliver her best performance on "Booty Call." For those who have not had the pleasure of listening to the track on vinyl, we weep for you. The track is reminiscent of so many great soulful classics and the pops and crackle only give it more fucking soul. Rojas does her best to fill in with overdubs when there should be a line of ladies backing her up along with choreographed shoulder sways.  The male vocalist does best to keep pace, but this track is Rojas all the way vocally. The guitar work at the three-quarter mark is especially smooth.
Symbiosis is another fine example. While the track is simple in structure, it is honest and real in both lyrics and delivery.
Proving they can nail the sound that forms their musical backbone, Local Motive is not afraid to change it up and when they do, it makes for some infectious jams. "Twig" opens with a textbook soul groove that explodes with liquid adrenaline on the chorus. The cantor between vocalists Daniella Rojas and Mike Vinopal are traditional soul backup style rather than the overused call and answer format for female/male leads. The guitar work is fantastic, out in front but not overpowering the trumpet work courtesy of Matthew Sypherd.
"My Oh My" tilts between jazz and R&B and dives into riffs that would be metal with the right effects. It pinballs around with Rojass delivering psychedelic laced vocals. This track belongs to the rhythm section. Adam Stein and Brett Weides keep the whole song together, jumping genres and time signatures without missing a beat. Without these flawless changes, this track would be a drunken jam session, but with them it works amazing well.
The logical transition would be venturing into the realm of funk and "High Life" opens like a Funkadelic track before Rojas calls the horses in and takes the reins on before the male vocal gets deeper and darker, angrier, complete with background screams and piercing trumpet before stripping everything back to Rojas's vocals. It's acid trip worth taking a few times.
Local Motive is a tornado of sound. They can go from a soft wind to a funnel cloud in a second. Don't run for cover, this is one storm you are going to want to get caught up in.