By: Live and Loud Lisa
Show: Warrant and Winger Concert Review
Date: February 28, 2015
Venue: Medina Entertainment Center, Medina, MN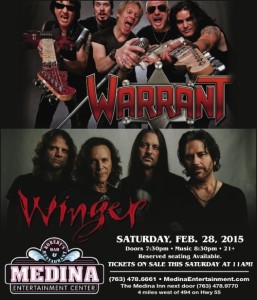 POP QUIZ: When you are attending a rock concert should you sit or stand?
If you answered the latter, we could probably enjoy a kick-ass show together. If not, you were probably with the hundred or so people who paid extra for VIP tickets to sit at "church basement" tables and metal folding chairs at the recent Warrant and Winger concert, held February 28, 2015, at the Medina Entertainment Center. I honestly think there was more standing and cheering downstairs in the bowling alley. Given that the average age of the attendees was about 45+, I started wondering if it was a bunch of hip replacements or an extreme case of "Minnesota-nice." I can't really say there was a lot of nice going on with having an uptight gal call over the 70-year-old security guard to tell the girls at the front and center table to "take their seats" during Kip Winger's acoustic set because she couldn't video tape him with her iPhone. (Yes, seriously.) Well, rest assured…we didn't sit the entire night, and other than one intense, confrontational moment with a gigantic dude at the table next to us, we were able to show our support and enthusiasm by dancing and singing along without any issues from our church, er I mean table mates.
Due to ice storms in Dallas, Winger was stuck down south with their gear. Thankfully, Kip Winger was able to hop a flight and open the show with his solo acoustic set with "Easy Come Easy Go" on a borrowed guitar. Having seen him do a solo set back in 2013, I figured we would be cozy and personal. He certainly didn't disappoint, as he was charming and funny, chatting with us like we were just jamming in his basement. After trying to call his bandmates and giving a shout-out to Beavis and Butt-head, he played many of his best known songs, including "Headed for a Heartbreak;" "Miles Away" with a girl from the crowd, who knew all the words; "Rainbow In the Rose" with a guest drummer; and ended it with "Seventeen." Although he didn't do "Madalaine," or one of my favorites "Down Incognito," Kip Winger is a class-act and put on another great show.
Warrant is still WOW! They started the show loud and fast with "D.R.F.S.R." and didn't slow down from there. I have seen them many times over the years, including back in the day with Jani Lane. They will continue to be a "won't miss" band for me when they come through town. With the majority of original band members – and knowing their audience well – they kept the music non-stop to most of their hits off of Cherry Pie and Dirty Rotten Filthy Stinking Rich. This also included their second song of the set, one of my Warrant favorites, "Down Boys." Some of my other personal favorites (not in order of the set): "Love in Stereo," "Mr. Rainmaker," "Uncle Tom's Cabin," and my all-time fav, "32 Pennies." The crowd was definitely Warrant fans, as there were now about two dozen standing (gasp). It was fun to see that Jerry Dixon still has the bushy eyebrows that we love – don't touch them Jer! Robert Mason is a good lead singer that can not only bring forward the heart and story-telling of Jani in all their classic ballads, but also connect with those in the audience. He has even been able to make me enjoy "Heaven," which is one of my least favorite ballads, only to be outdone by "Every Rose Has Its Thorn" by Poison. Like the sweet desert after dinner, they wrapped up their encore with "Cherry Pie."
Warrant and Winger continue to rock the house – and did a stellar job in a shitty venue with "old fart" Minnesota fans. Take this advice into consideration when attending a ROCK concert at Medina Entertainment: if your tickets have "VIP seating" save your money and get GA tickets (and get there early) to stand in the GA area. You will still have the best "seats" in the house.
**********************************
Live and Loud Lisa has been enjoying live music, especially any type of rock, since her first concert seeing Bon Jovi at the Met Center in the 80's. Don't ask her to choose her all-time favorite show because that is like asking a mom to pick her favorite child – they are all unique and special. She is not a musician, but knows what she likes – and doesn't. Last year she saw nearly two dozen show experiences around the Twin Cities (and a bit beyond), almost always with her rock-buddy Joy of Joy's Jams.