By: Angela Marie
As soon as the tickets went on sale for the Peter Hook & The Light show in Chicago I snatched up a pair for myself within minutes. This was it; this was my whole teenage years coming full circle. I started listening to Joy Division in high school as I felt a certain connection to the music. Going through the usual teen years filled with depression and suicidal thoughts. Music like Joy Division and The Smiths helped me through those times as it did for many fans. The words spoke to me and made me feel a connection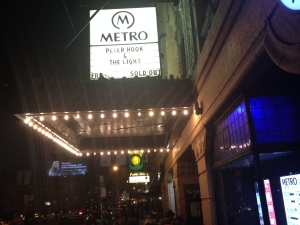 that was personal. I felt like I knew Ian. Of course there's no way to say I knew how he felt because that was his story, but the words pulled at my heart. To this day it's hard to watch the movie "Control." The ending always makes me cry because there's always that thought of what a tragic loss to the world. Such a talented man that was gone too soon. 
So as I filed into the Metro in Chicago I was a little further back then I had wanted, but still had a good view of Hooky and David Potts playing guitar. As the crowd yelled and screamed "Hooky" the chords to "Ceremony" started and the crowd's roar increased. Hooky walked on to the stage and my heart sank. There he was on stage; a legend right in front of me. It was surreal. I thought to myself this is the closest to Joy Division I will ever get. I think this was the closest for many who attended. As Joy Division  had never toured America. Yes some may have seen New Order, but this was it for many of us. The second song into the Joy Divison set was "Transmission." This was one of my favorite songs from them and as we all started to dance you could just look around and see smiling faces of content. After a few more songs they went into "Isolation." This is probably my favorite song by Joy Division. That song was my inner thoughts as a teen and even some moments in my adult life. I wanted to cry when I heard him playing, but I was too happy to even cry. I was happy to just be there; happy to hear these songs in the flesh. 
Without hesitation they go right into "She's Lost Control" and then "Shadowplay." As we all jumped around and danced like we were 13 year old children, I noticed many in the front were motionless. I often wonder why be up front if you're just going to stand there like a pole in frozen ground? To me the front is where the action is. You're feeling the impact of the wrath behind you and you're in the cross hairs of the energy in front of you on stage. If I was just going to stand motionless I would hang out in the back of the audience. I just never understood that. I could never just stand there with that much energy and sound right in front of me. As "Shadowplay" ended the lights lowered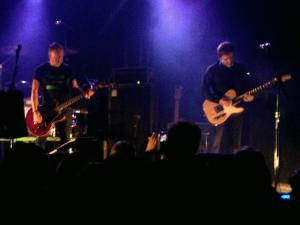 and it was intermission time from the Joy Division set to the New Order set. I loved the Joy Division set, but wished it could have been a bit longer. I can't complain though, cos I was just lucky to hear it all in the first place. I do have to say that David Pott's guitar playing was phenominal. I was in awe when he went through the Joy Division set like butter. They seemed to have a great time together on stage and shared laughs and smiles with each other. I was hoping for a track from their Monaco days, but no such luck. It was also nice to see Hooky's son joining him on stage playing bass with him. That has to be a proud moment for Hooky and an experience his son will never forget. You can tell he definitely get's his musical chops from his Father. Also in attendence that night was writer Irvine Welsh. We didn't see him, but via their conversation on Twitter Welsh had a great time as well that night. 
The lights struck the stage and the New Order set was about to begin. They started it off with "Let's Go" and as with the Joy Division set the crowd were on their feet. I had wondered was this how it felt to be in the clubs back in their heyday? I still believe I was born in the wrong decade. I couldn't even imagine the feeling of hearing them back then. Not like today where everything sounds like manufactured crap coming from the Willy Wonka like plant that is called the music industry. Who cares if it doesn't have feeling, depth, or hell even a tangible instrument on an album; if it contains a catchy hook and nudity it's a hit. This generation doesn't even know what an album is really. They buy songs and truthfully a lot of these artists don't form their album as a landscape. They know their audience will be purchasing or streaming singles. I  imagine back in the day Hooky and the boys never thought they'd have cult legendary status decades later or that they would influenece so many other great artists. That being said, it's best to think like that really. It keeps a level head on your shoulders and you're not going to be a pompous twit that thinks the world owes you a living.
The one song that I was most excited to hear was the instrumental song "Elegia." I have a soft spot for this song because it was the soundtrack to an after high school breakup. As I was coping through the heartbreak I played that damn song over and over. It was so powerful and as each chord hit, it was like a knife in my gut. The moments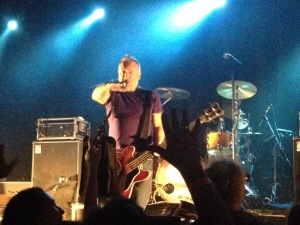 of that relationship played in my head like an 80's teen movie and that song was definitely pivotal. I just wanted to cry when I heard Hooky play it, but again I was just so happy to be there the tears couldn't make an apperance that night.They played a few more songs and then again went into a break. The next set was from their album Brotherhood. This album was my introduction to New Order. I had remembered seeing the videos for "True Faith" and "Bizarre Love Triangle" on Mtv and fell in love. After the Brotherhood set another short break and at some point there was a marriage proposal from a fan to his girlfriend on stage. This seems to be the new thing going on nowadays instead of proposals on the big screen at a baseball game. 
They appeared back on stage and started the last set with "State Of The Nation." I was excited to hear "True Faith" and "Temptation." It was so fun dancing to them and feeding off the crowd's energy. After "Temptation" was over they had a special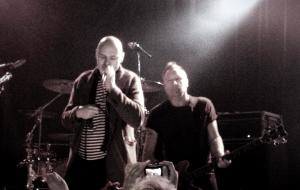 surprise for the crowd. Billy Corgan of The Smashing Pumpkins joined them on stage to sing the classic hit from Joy Division "Love Will Tear Us Apart." The crowd was in awe of the moment and many probably couldn't believe he was on stage in front of them. There was a sea of cell phones and cameras being held up in the crowd to capture the moment. I must be honest, it was nice to see him up on stage, but I don't think he did the song justice. Maybe it's because the song has such feeling and emotion, but you really have to put your heart into it. It's not a lame karoke song to sing. I think if he would have joined Hooky on the vocals and helped Potts with some guitar work it would have been better, but I guess you can't ask for too much when someone isn't actually on the bill to perform.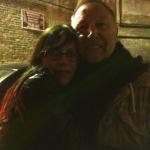 The lights went down and the crowd was thanked for coming to the show as the crew disassembled the drums and mics from the stage. There would be no encore, but there didn't need to be. It was a hell of a show and I think everyone walked away satisfied with the night's offering. As we assembled on the cold streets of Chicago we waited a few minutes in the alley of the club hoping to meet Hooky. We waited and as I froze like a popicsle we decide to go across the street and get a Chicago hot dog and glare out the window until he popped out of the club. After eating a horrible cheeese covered hot dog he still had not walked out of the club. We stood outside and I told my friend "We'll just wait a few minutes. I'll kick myself if we leave and he comes out." We waited a few minutes and there he was walking out the door with a big smile. Everyone was excited and asked for autographs and pictures. I patiently waited and finally got my picture with him and hugged him tightly while thanking him for the picture. I wanted to thank him for saving my life, but I could tell he was in a hurry to leave. I was so happy that I actually got to meet him and hug him that I  skipped down the frozen Chicago streets like a little girl. My night was complete and another musical hero to check off my bucket list. I hope he tours again because I can't wait to see him again!
SET LIST
CEREMONY
TRANSMISSION
DISORDER
NOVELTY
DIGITAL
ISOLATION
SHE'S LOST CONTROL
SHADOWPLAY
——————————-
LET'S GO
LONESOME TONIGHT
THIEVES LIKE US
LOVE VIGILANTIES 
THE PERFECT KISS
THIS TIME OF NIGHT
SUNRISE
ELEGIA
SOONER THEN YOU THINK
SUBCULTURE
FACE UP
———————————
PARADISE
WEIRDO
AS IT IS WHEN IT WAS
BROKEN PROMISE
WAY OF LIFE
BIZARRE LOVE TRIANGLE
ALL DAY LONG
ANGEL DUST
EVERY LITTLE COUNTS
_____________________________
STATE OF THE NATION
CONFUSION
TRUE FAITH 
TEMPATION
LOVE WILL TEAR US APART