By: Angela Marie
Just a year ago I was in Indianapolis to see Johnny Marr for the first time and having one of the best nights of my life. A year later he's back at it again and once again I was front row to witness another great show. We arrived an hour before doors opened and there was already a decent line of fans outside the venue. At that moment we hatched a plan of attack to make sure we'd get a spot up front. I would rush to the front and my boyfriend would get some Marr merch. Thankfully our plan works and I'm off to the left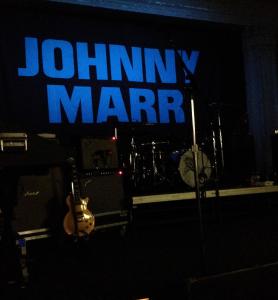 of the stage by the wonderful Doviak. I think the most impatient someone can be is when you're waiting to get into a venue, then waiting for the opening act to start, and then regardless if the opening act is great; you're waiting for the headliner to get on stage. I feel like a kid on Christmas Eve counting down the clock to open presents. I do have to say, I am glad that Johnny has a talented and great opening act. Meredith Sheldon toured with him last year and this time around it seemed as if she was a little more comfortable and at ease with the stage. She has a beautiful voice and knows her way around a guitar as she pointed out to an audience member while she was tuning the top string. He said "Drop D" and she rightfully let him know "No, It's drop B man."  It's always fun when performers interact with the audience. You feel a connection with them and feel as if it's just you and them.

As Sheldon finished her set, the anticipation for Johnny to take the stage grew. A glimmer of a roadie on stage or feet coming down the stairs from the back kept everyone on their toes for what was to come next. As the lights lowered and the backdrop illuminated Johnny finally took to the stage with his band. He kicked things off with his intense drum driven song Playland. The crowd bursts into a loud roar for Johnny as he started his set. That is one thing I can say when people ask how was his show, he seriously brings it every time. I still don't know where he get's his energy from. I know he runs and being a Vegan he probably eats quite well, so maybe that is the magical answer. After the electrifying Playland he went into the classic Smiths song "Panic". I think that song could be the most relevant song for what is going on in the music charts today. If you know the lyrics to the song, than you know what I mean. I always love hearing Smiths songs because I never was lucky enough to see them when they were together. The music you've listened to since a teen comes to life and it's such an intense warm feeling inside. 
After playing "The Right Thing Right" from his album The Messenger he went into what is probably the most upbeat and catchy song from Playland called "Easy Money".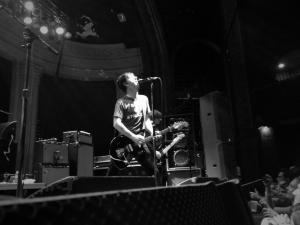 It's one of those songs that if you hear it once it will be in your head for the rest of the day. When it was first released I would listen to it in the car on the way to work just to put me in a good energetic mood. One of the best songs of the night in my opinion was The Smiths "Headmaster's Ritual". I always loved the bass and guitar lines in that song and it's one of my favorites along with "Barbarism Begins At Home". I'm hoping next tour he plays that and maybe the instrumental "Money Changes Everything". He played a few songs from his new album and The Messenger and then went into another Smiths classic "Bigmouth Strikes Again". This is always a crowd favorite and has such an fierce opening that makes me giddy. He then leads into "Boys Get Straight", which reminds me of some classic eighties punk music. The intro is so raw and the beat carries the song like a fast moving train to the chorus. For some reason it reminds me of old Johnny Cash a bit. 
"Candidate" was next, which has been on repeat many times in my car. The song is just so melodic and smooth and was great to hear live. There was a lot of feeling to the song when he played it live. One of the magical moments of the night is when he performs "Please, Please, Please Let Me Get What I Want" and "There Is A Light That Never Goes Out". For some of the newer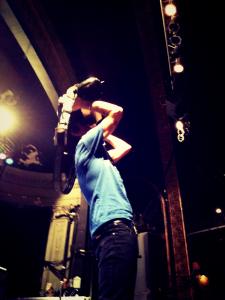 generation movies that used Smiths songs on the soundtrack was their introduction The Smiths.  And for those who have been long time fans it's always a treat to sing a long as if you're at the local pub. Before going into one of the most well known Smiths song "How Soon Is Now?" he played the Electronic song "Getting Away With It". As I looked around at the audience while dancing I noticed not too many people knew the song or probably that Marr has dabbled with many bands and projects in his career. I hope hearing all of these great songs that it sparks the younger audience to dive more into his catalog. He finished his set with probably the most popular Smiths song "How Soon Is Now?" I'm sure some wondered if this was it and if there was going to be an encore, but as always Johnny never disappoints and returns to the stage once again. 
Marr pushes into "Still Ill" another gem from The Smiths and into "Dynamo", which will be released next month. "Dynamo" reminds me of a classic eighties song with the catchy guitar riff and dreamy chorus. At some point Marr reminds us all that we're missing out on a great night in reality tv because we are here watching him. He then also reminds us how we gave the world (I gag as I type this) the Kardashians and the UK gave us The Clash. Okay fair enough, but I believe we gave the world Jimi Hendrix, the blues, and Jim Morrison. See, we do have something to offer! Just remember the UK recently gave us One Direction! Closing out the encore Johnny plays The Cricket's "I Fought The Law", which I first heard from the legendary punk band The Clash. Marr ends the night with "There Is A Light That Never Goes Out" and we all sing a long and wish the night wasn't ending. 
After the encore we shuffled outside into a college football fan frenzy. The streets were flooded with drunken college football fans and we were trying to navigate through it all to Johnny's bus. Unfortunately his bus wasn't behind the venue, but parked on what appeared to be frat house row. We waited around for a bit to get my Playland vinyl signed and photos taken with the band. Doviak strolls down the street and I nervously asked if he would sign my record. He graciously signed it as I fumbled over myself to
get it out of the sleeve. I was hoping to get a photo with him, but he seemed like he wanted to get on the bus and relax. Jack follows after Doviak and we chatted about the show and how great it was. He signed my record and I was lucky enough to get a photo with him. I asked if Johnny was going to come out and he was uncertain. So we waited probably another thirty minutes and Johnny's tour manager assured us a few times that he was not going to sign anything tonight. I was a bit disappointed as I wanted to have him and Iwan his bass player sign my Playland vinyl. My boyfriend who is also a guitar player wanted to ask him some tech questions, but I understood. 
Many people go on to Twitter or Facebook and complain how he may not come out to meet fans, but meeting him is the icing on the cake so to speak. If it happens that's great, but don't expect it to happen. I think part of the reason why he didn't want to meet fans was because of the craziness on the streets. It really wasn't safe for him to be on the streets with groups of drunken fans passing by. He could easily be overcome by the crowds of people who don't even know who he is. I'm hoping the next time I get to see him that I'll be able to chat with him after the show like I did last year. That moment still gives me that warm fuzzy feeling. 
SETLIST
PLAYLAND
PANIC
THE RIGHT THING RIGHT
EASY MONEY
25 HOURS
NEW TOWN VELOCITY
THE HEADMASTER'S RITUAL
BACK IN THE BOX
SPEAK OUT REACH OUT
GENERATE! GENERATE!
BIGMOUTH STRIKES AGAIN
BOYS GET STRAIGHT
CANDIDATE 
PLEASE, PLEASE, PLEASE LET ME GET WHAT I WANT
GETTING AWAY WITH IT
HOW SOON IS NOW?
ENCORE
STILL ILL
DYNAMO
I FOUGHT THE LAW
THERE IS A LIGHT THAT NEVER GOES OUT