By: Angela Marie
So my last concert was seeing Future Islands in Indianapolis. I found out they were playing the Fashion Meets Music Fest in Columbus a few weeks later and thought if I can go it's going to happen.  I really enjoyed their show in Indianapolis and wanted to experience that intensity once again. They were playing one of many after parties that night along with their opening band Operators.  I had finally made it to Columbus in the afternoon after a rainy construction filled four hour drive from Indiana.  My friend had made it a few hours later so we decided to see what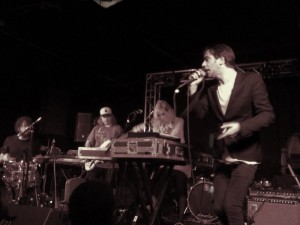 the FMMF was all about. After grabbing a beer we checked out a few bands performing and went through the food vendors. I like the idea around the whole fashion and music thing, but I think the fest lacked in activities a bit. They had a cool ferris wheel, a zip line, food vendors, retail market, and bands. I think it would have been nice to have vendors offering graphic shirts, jewelry, etc. We only saw one mobile boutique, which was mixed in with the food trucks. When seeing that they were offering a retail market I thought that meant a sort of an Etsys shop come to life, but they were fashion shows. I have to admit, the closest thing to following fashion for me is watching Project Runway. If I see something I like I wear it. Maybe that's just the punk rock side of me. 
Having gone to other music fests in the past they had always had clothing vendors and other activities to do. I think a few things they could have included in the fest would be to screen print your own shirt, have an old arcade game tent, and music listening tents. When looking at the schedule there were only a few bands that I knew; so maybe a listening tent where you could listen to some of the not so well known band's music would've been nice. I think more people would check those bands out if they could get just a taste of their music. 
After some fish and chips at an Iris pub we went back to our hotel to get ready for the after parties. Heading to the bar I couldn't help but enjoy the downtown area of Columbus. There were many places to eat and local shops, which is nice to see when you come from a small town that only caters to big corporate stores. Even though we didn't ride the ferris wheel it was a lovely sight to see all lit up. I'm now kicking myself for not getting a picture of it illuminating the Columbus sky. We finally arrive at the bar and as I hit the merch table I see Future Island's bassist William Cashion chatting with the guy behind the table. The last show I got to meet the band and talked to them for a bit. William and I chatted about Joy Division and their tour. I greeted him and he remembered me from the Indianapolis show. We chatted for a bit about their new merch and their show in Chicago the night before. Sam from Operators came to whisk him away to the stage as he was going to help them out on one of their songs. 
As fans filed in I found a spot to the right of the stage in front of a massive speaker. This time I wasn't too concerned about getting to front row as I had been up front the last time. I really just wanted to stand back and enjoy the show and take it all in. As Dan, Devojka, and Sam take the stage the crowd cheers and yells out their name. Dan Boeckner, the lead singer, guitarist, and half of the electronic powerhouse of their sound greets the crowd. Truthfully before their last show I had never heard of them, nor had I heard of Dan's previous bands. Sometimes when I discover bands later in their career I feel like the kid who didn't get invited to the party; but it's kind of a nice surprise all in the same. When Johnny Marr performs Smith's songs some people are quick to point out that it's not the same and he doesn't capture Morrissey's crooner voice, but I was able to enjoy Operators music without any of those filters. It was brand new to me. 
The other half of the electronic brain and backing vocals of the band is the beautiful and edgy Devojka. She always brings a bit of sarcasm to the set with her ad-libs between songs. She's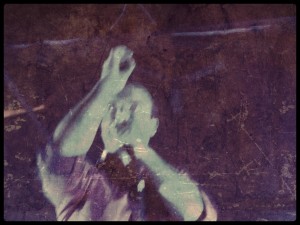 definitely not just a girl behind the knobs. The previous show Dan and her seem to have a bit of an issue with their equipment, but this show they were ready to go from the start. Sam Brown is the laid back charismatic drummer who shares stage banter with Dan and Devojka.  As they were going through their spirited track list from their new EP I decided I needed to move away from the massive speaker because I would like to not go completely deaf by the age of 40. William from Future Islands finally made his way up to the stage to help the band with one of their catchiest songs called "True." You could tell they really enjoy each others company and share some great times on the tour. One of my favorites of theirs is the song "Ancient" because it starts out with a light synth backdrop and Dan's vocals channeling Peter Murphy. Then the song lifts you from the fog and hits you with a funky pop synth breakdown. Their hooks will be in your head well after the show.  Overall the EP is quite poppy and sounds like the 80's new wave I grew up with. I can't wait until they come out with their next offering. 
As members of Operators leave the stage the crowd's excitement for Future Islands grows with screams and pounding on the stage with sweaty fists.  The smell of burnt pizza, pot, and sweat filled the air…what a strange smell that was. William, Gerrit, Sam, and their touring drummer Mike assemble the stage while a roar from the crowd greets them. My friend who never heard of either band had gone to get a beer and now had fallen back into the sea of fans and couldn't be seen anymore. I was wondering how he would like them and if he would fall in love with them as I had. They started out with "Back In The Tall Grass"  which intros with William's driving bass and Gerrit's glistening sounds of the keyboard. It perfectly sets up for Sam to come in with his deep soulful voice and intense theatrical moves to take over the stage. If you've never seen them live I suggest you do so. They're an outstanding live band that gives you everything they have, regardless if they just traveled twelve hours and had equipment issues. Their live performance and music is a mix of punk rock, new wave, and Shakespeare. Many times I have described Sam T. Herring as the Marlon Brando of music. At times his voice grasps a metal frontman's roar and then glides down to a delicate whisper. Sam runs the stage and at moments is acting out an intimate moment from a song. It's as if he's in his own world and we're the voyeurs. The emotion and piercing stares into your eyes make you feel as if you're the only one in the room.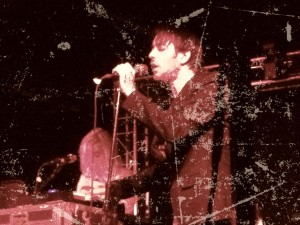 He puts down sweet dance moves that are reminiscent of fifties doo-wop along with thrashing punk rock angst. In the most intimate and perhaps personal moments of their songs, Sam reaches from within himself to share the depths and at times sorrow of their lyrics. The crowd at the Columbus show was a bit more rowdier than the crowd in Indianapolis and as the band went through their set it intensified. Many were jumping to grab hold of Sam's hand or to just attract his attention. It's quite something when your eyes meet and he briefly serenades you. By the time they had gotten to "A Dream Of You And Me" I had made it to the front row. The couple who was in front of me couldn't take the thrush of the crowd behind them anymore, which I totally get but that's the price you pay for being up front. You will get pushed into the stage and to the person next to you, but just keep hold of the stage and hold on tight! This was nothing for me because back in the day I use to go to punk and metal shows. I remember coming home with bruised up elbows and legs. Although I can hold my own up front, I often wonder how long will I be able to do it but until then I plan to get as close as possible. 
This time I zoned out and enjoyed the music. One of their most emotional songs that I love to hear live is "A Song For Our Grandfathers." Hearing it I get choked up a bit because I think about my Father who passed four years ago. I always feel that my Father is watching over me and many times I felt safe knowing so. At times I would just close my eyes or stare off onto the stage and just take it all in, but that soon changed when they went into their hit "Seasons (Waiting On You)." The crowd understandably became unglued when they realized they were about to hear the song that changed everything for the band. After playing a few more songs from "In Evening Air" and "Singles" they  left the stage for a break and probably for Sam to wring out his soaking wet shirt. Coming back on to the stage they performed an encore. After the encore I headed over to the side of the stage to talk with Devojka about her necklace that  broke at the last show I went to. She broke it while playing their song "True" and she handed it to me. Knowing I was going to see them again in Columbus I went ahead and fixed it for her. It was a cool necklace and truthfully she could rock it more than I ever could! After chatting with her I weeded through the crowd to get to my friend. I finally found him and asked what he thought. He had already went to their merch table and purchased "Singles" on cd. He was now a fan and said he really dug the Operators as well. 
We filed outside and poured into the alley way to meet the band. I met up with Mike their tour drummer first and he had remembered me from the last show also. I told him how much I enjoyed his other band Mt. Royal's music and that I was planning on buying it on vinyl. Sam from Future Islands scuffled through the street and I greeted him as he also recognized me from the last show. I asked him if I could possibly get a photo of me with the whole band because the last time the guy who took them didn't hit the button on the camera right. He agreed once they got everything loaded, which I was more than willing to wait. Finally William came out and he gave me a high five and asked what I thought about the show. I had commented that the crowd was a little more rowdy and he said they're playing heavier as the tour goes. We chatted for a few minutes and then he went with their road crew to help with all of the equipment. I do have to say from afar being on tour with a band sounds like fun, which I'm sure at times is, but it's a lot of hard work. Their road crew really gets the job done and even the guys from the band help out, which is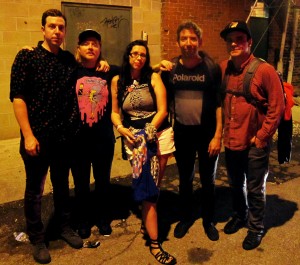 nice to see that popularity hasn't caused inflated egos. I would say about two hours later I was finally able to get a photo with the guys and thanked them for everything and wished them a safe trip. Even though their show is a must see, it would be nice if they changed their set a bit. I would like to hear some of their singles that didn't make their albums. "One Day" and "Tomorrow" are two of my favorites that I would love to hear live. Maybe that's just what you will have when you see a band a few times in a row. Future Islands is the first band that I've seen more than once on a single tour and has yet to disappoint. They are a band that will give you everything you want and will leave you begging for more. They are the real deal and the nicest guys you'll meet.  I can't wait till they start working on a new album!