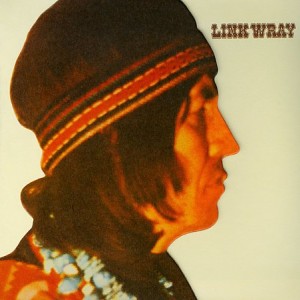 Link Wray is the original rock and roll guitar hero. He's the man that made Pete Townsend want to pick up a guitar, and he's the man that inspired Dave Davis to cut the cone of his amp to get that jagged Kinks' guitar sound. That's why it was shocking when Link Wray recorded his self-titled comeback album in 1971. Maybe if Captain Beefheart had been a country boy or the Rolling Stones had been American, they could have cut a raw piece of American like Link Wray. It's not the Link Wray you're used to even though it is the same guitarist who cut the all instrumental "Rumble." This sounds more like the Band than the popular idea of Link Wray.
Wray cut this album with his brothers in a chicken coup turned recording studio upon returning from the Korean War. Fiddles, mandolin, a rusty can full of nails, and fuzzed out guitar run through blues, folk, and roots-rock. Wray was never really a vocalist, and it didn't help when he lost a lung to TB in 1951. Yet, Wray's not a vocalist in the way that Hendrix isn't a vocalist. The voice doesn't grate on you, but you'd be hard stretched to say he's got a set of pipes. When the music is this phenomenal, the vocals are easily forgiven.
        There is not a bad track on the album. The minimalist blues jam, "Crowbar," gives Wray a chance to showcase his guitar skills. Wray plays it passionately but with restraint. "Black River Swamp" is a mandolin driven song of longing for a bygone forgotten place. "Tail Dragger" is a cover song written by blues legend Willie Dixon. Wray throws in his fuzzy guitar and growls out the lyrics to give the song a facelift. Despite the roots rock feel, Link Wray never seems dated or tired. The tracks are fresh yet ragged. This album is waiting for a rediscovery amongst the vinyl community.
The album did poorly upon release. Link Wray was not what Wray's fans were expecting from the man. They wanted the switch blade knife fight guitar sound that Wray was known for in his younger days. What fans got was a front porch foot stomping boogie album. As time passed, both fans and critics began to realize their mistake and gave the album a second listen. Thus, despite the original poor reviews, the modern reviews of the album are generally positive.
Link Wray is an album that will not only look cool in your collection, but it will be given numerous spins. Link Wray has been pressed onto CD as part of a collection called Wray's Three Track Shack, named after the chicken coop the album was recorded in. The CD also comes with Wray's next two albums Beans and Backfat and Mordicia Jones. You'll want to own all three albums, but it is Link Wray that is the crown jewel of the collection. The truth is though, that you don't want the album on CD. You've got to pick up a vinyl copy of this LP. The cover has a die cut of Wray's face, and frankly, the album sounds amazing on a turntable. You should be able to find a copy of Link Wray on vinyl for about $30.
[really_simple_share]