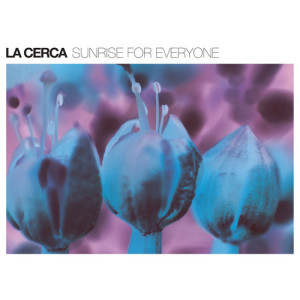 Some of the best albums are soundtracks. Not a compilation of many artists top-ten goodies, but a score that reflects the story musically. While there is no movie accompanying La Cerca Sunrise for Everyone, the album paints pictures from a multitude of inspirations, and draws the listener into their own life reflections with powerful imagery.

There are many re-occurring themes in Sunrise for Everyone, most prominently of which is the sun. Its omnipresence is especially strong on the first side. The opening track "Arizon" is filled with early 90's alternative jangly guitars and sun drenched in both lyrics and style. Its a lone drive through the desert. While the songwriting is deep, it never drags the listener below the surface.

Keeping that theme is "Climate Control." Full of great pop hooks and lyrical excellence, the song harnesses the power of the summer in Arizona, and explores what can flourish despite its desert landscape.

The title track is also the best cut of the LP. While the album is full of lyrics that are open for interpretation, "Sunrise for Everyone" paints a picture of renewal, a clean slate, and hope that comes with a new day.

While the second side of the LP keeps up with overlying theme, the song lengths grow as does the lyrical depth. "Weather Festival" is an opus of sorts, telling the listener that "the best songs every written are about the storm" and then utilizes the blueprint, dishing out plenty of metaphors and heartbreak. Along with the closing track, "Mountain Villager," the second side dives into the deep end with perfectly timed movements and tempo changes, in addition to the songwriting that grows ever more stellar.

The Vinyl
Released on July 29, 2014 from Fort Lowell record, the LP is pressed on thick black wax. The jacket is full color and includes a lyric sheet and digital download. You can pick up a copy from your local independent record store or directly from Fort Lowell Records.