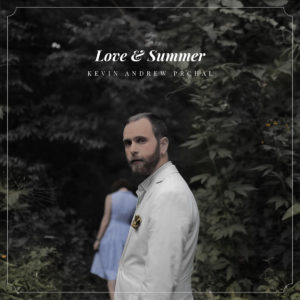 One thing I love about the singer/songwriter genre, is that is without a doubt the most honest genre of music. While someone can pretend to be a rock star or cowboy, it's pretty hard to fake it when it comes to writing about a variety of topics, evoking emotions from the listener, dishing out metaphors that are both relatable and clever, all while hitting the right notes.
Love and Summer, the latest LP from Kevin Andrew Prchal, is a perfect Americana record.
The album opens with "Make Me a Believer." In addition to a smooth sweeping melody, accented by some very fitting slide guitar, Prchal delivers vocals that are pitch perfect with just a splash of dry whiskey. The lyrics are truly authentic and easy to relate. The messenger is hopeful for a fresh start with their partner, aching for promise, but wary from past failures. This is best described on the chorus. After asking the muse to make him a believer, with beautiful overdubs, he caps the last line with "again." However the hope is infectious and the listener finds themselves rooting for them as well.
Next up is the title track. It's a fitting a title when a song can make you feel it. This authentic country track builds with energy throughout, complete with hand clapping and female backing vocals, and dancing keys. The lyrics make us feel the summer sun, and the music helps us smell the wind.
One thing we love about the LP is how it features different musical interludes to break up the track and give the album pacing. While tracks like "That Feeling" are just simple front porch blues jam and "Giants Hollow" is an acapella campfire singalong, others sound like they were demos that were too good not to get on the album. "The Wind That Spun the Wheel" is a great example of this.
Throughout the album Prchal delivers more of his own brand of excellence fulfilling some of the standard Americana requirements including a slow temple ballad, "Simple Thrill," a tribute to his home state, "Illinois," and even a jazz based jam, "Faded Island," on which Prchal really opens up his range. "Midnight in the Churchyard" is  a great up tempo blues track with plenty of soul. It's got great energy. If this song doesn't have you dancing in the aisles or throw up a hallelujah, you might need some prayer.
Perhaps our favorite track "Back to Earth." It's hard to put into word how beautiful this track is. Isolated with only a piano and his raw vocals, Prchal delivers deeply personable truths about life and death. It's passionate, honest, and raw. When the strings come in on the last verse, the emotion is pouring out of every note. This is the kind of track you want your children to hear after you are gone.
Whether you love Americana music, or just great songwriting, Love & Summer will be one of the best albums you will hear all year. You can pre-order your copy here.
Kevin Andrew Prchal is our June Fresh Wax featured artist!