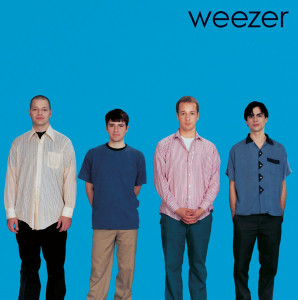 Since Weezer's debut album, commonly referred to as the Blue Album, celebrated its 20th anniversary in May, there have been many reviews over the last month. Why should I bother writing yet another one? Again, this article isn't about reviewing the album; it's about revisiting the album.
There are only a couple of albums where I can remember the exact moment when I was introduced to a new band, by a specific person, at a specific moment in time. The Blue Album is one of those. I was on a high school speech/debate trip. During that 8 hour bus ride, one of the seniors said, "You've got to hear this," and proceeded to play "My Name Is Jonas", the first song on the album. What better way for a bunch of high school speech geeks to rock out than to the ultimate nerd band?
Everyone knows "Buddy Holly" and "Undone- The Sweater Song". These songs still get a lot of radio play today. But by listening to the whole album you find the upbeat hooks really juxtapose the somewhat sad, sinister and depressing lyrics that you just can't help but sing along and dance to.
The band's signature style and themes make me feel right at home during the second half of the album. As a marketer for a "big bank", there is part of me that really wants to bail "out because I hate the race of rats that run round and round in a maze. I'm going surfing, I'm going surfing!" Well, maybe not surfing, but I certainly can relate to the guy in "Surf Wax America" who just wants to fall off the grid.
My favorite song on the album, "In the Garage", is the ultimate nerd get-a-way. What teenager – or adult for that matter— can't relate to having or needing to have a safe place away from the rest of the world where you can just be yourself? The song starts out slow – painting the scene of this great place where the cast-out members of KISS are waiting just to hang out with you. Then the chorus picks up the beat and you can't help but groove, and by the end of the song it's full-on air guitar time.
The album closes with "Only In Dreams" which ends with one of the best dual guitar face-offs. This is challenging to air guitar because you don't know which one to follow, but it rocks my socks and closes the album-proving Weezer's got serious rock chops.
While I own other Weezer albums, I rarely listen to them. Meanwhile, the Blue Album is a mainstay. Rivers Cuomo's lyrics may seem juvenile, but I find relevance today and the rock/pop melodies are appealing to broad audiences.
Joy's Jam Scale (Click here to see a scale description):
Nostalgia –
Air Guitar Ability –
Sing Along –
Let me know what you think of Weezer's Blue Album. Follow me on Twitter @justjoy1 and/or use #joysjams or leave a comment on the Get it on Vinyl facebook page.