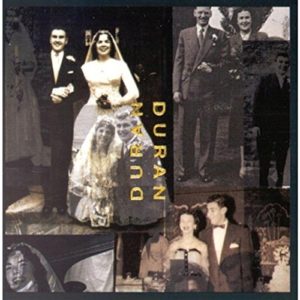 I was too young to get into the Duran Duran fandom that plagued the early 80s. By the time I started selecting my own music, Bon Jovi had captured my heart and Duran Duran had branched off into their many side projects.
However, when they burst back on the scene in 1993 with "Ordinary World," I jumped on the bandwagon and discovered their hits from a decade earlier. Beyond being the album that turned me on to the darlings of MTV, the band's second self-titled album, which became known as the Wedding Album, will forever remind me of friendship.
I can't hear any Duran Duran song without thinking of my friend Barb. She is the ultimate Duran Duran fan. The second any of their songs comes on, we both start singing along. I can't even tell you how many times I've heard about the time Nick Rhodes signed her forearm. Since we will soon see the band on their Paper Gods tour, I figured it fitting for me to revisit the album that made me a fan.
While the Wedding Album showcases a slightly different sound than Duran Duran's earlier pop hits. It proves the band's relevance a decade after their debut. The Wedding Album is true to the sounds that made Duran Duran a hit. With Rhodes as the driving musical force in the group, the band is heavy with his keyboards. I have never once broke out my air guitar to a Duran Duran song.
Nick Rhodes and John Taylor form the core of Duran Duran and they are the founding members. With many member changes over the years, these two remain a consistent face of the group. Their friendship reminds me of my relationship with Barb. While others may come and go from our circle, our friendship remains at the core. Like Nick and John, our friendship is not without its twists and turns but at the end of the day, we always find our way back to each other.
The album's first single, "Ordinary World," is about surviving in a world after change. No matter what changes in our lives – moves, jobs, relationships – Barb and I navigate the change and our friendship continues to grow.
Actually, most of the Wedding Album focuses on adapting in a rapidly changing world. Other songs include, "Sin of the City" and "Too Much Information." These songs reflect the band at the time. Duran Duran was trying to figure out how to come together after years apart, pursuing separate creative outlets. They needed to find a new, yet familiar groove and compete in a changed industry.
 "Too Much Information" brings an up-tempo mid-point of the album. Taylor's bass line gives the song a little funk and makes it my surprise favorite on the album. "Destroyed by MTV, Hate to bite the hand that feeds," expresses the band's frustration in trying to reinvent themselves after nearly a decade apart.
Just like when Duran Duran separated and came back strong for the Wedding Album, Barb had to move away for me to realize just how much she meant to me. Like Nick and John, when she moved back home our friendship became stronger than ever.
"Come Undone" is Barb's favorite Duran Duran song from their second act and it's fitting. The song is about figuring out who to turn to when you lose yourself. For me, it's Barb. She is my person, my rock.
I know there are times when that girl can't stand me and she wishes I would go away already. Half the time I am too self-absorbed to even realize she is upset with me. For better or worse, I am not going anywhere.  
Joy's Jams Scale (Click here to see a description)
Nostalgia –
Air Guitar Ability –

Sing Along –