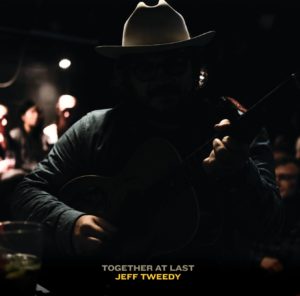 Wilco meant a lot to me in my early twenties. I think Yankee Hotel Foxtrot is one of the best albums of the past twenty years. It's plays like a sparse, blue collar American Radiohead punctured with jagged Neil Young-esq guitar.
In 2006, Jeff Tweedy released a DVD entitled Sunken Treasure—Live in the Pacific Northwest. Of course, I purchased it immediately. It is a Tweedy solo effort but with Wilco content. This is no surprise since Tweedy is the primary lyricist and front man of the band. Sunken Treasure was sparse and heart felt acoustic takes on songs I loved. It felt comfortable and soothing. It was the first sleep in flannel sheets of the winter season: warm and familiar.
The DVD came with a download code, but there was never an official vinyl or CD release. Nine years later, Tweedy has finally released an album, in the vein of Sunken Treasure, entitled Together at Last. Together at Last is Tweedy doing acoustic Wilco songs. Normally, when a lead singer releases a solo album it's to push into new territory where the band won't follow. This is not the case with Tweedy, but it also doesn't feel like a rehash. In that sense, it plays like an Unplugged album. Yeah, you knew "Layla," but the Unplugged version played as new. This comparison of Clapton and Tweedy should not be lost either. Clapton was the dad rock of Generation X. I liked Clapton, but he wore bad dad blue jeans, had a neck beard, and was in heavy rotation on classic rock radio. It has recently been brought to my attention that Wilco is my dad rock. Hip kids of today view them much in the same way I view Clapton. Clapton is a master guitar player, but Tweedy is a master of song craft. That's about where the similarity ends for me. Maybe I can't pull myself out of my own head though. Regardless, Tweedy is consistently one of the smartest artist putting out music today.
Throughout the album, the guitar playing is gentle and subtle. It's is occasionally highlighted with a harmonica, and the influence of Dylan is hard to ignore. It makes sense that the songs that sound freshest in this acoustic format are those that are drastically different from the originals. "I Am Trying to Break your Heart" from Yankee Hotel Foxtrot is the prime example. The original version is spaced out indie rock filled with accented with abstract noises. I know I made the reference earlier, but the original feels likes an Americana Radiohead track to me. The version on Together at Last is still subdued but soft and more straight forward. The comfort of Tweedy's croaking voice is really on display. "I'm Always in Love" from Summerteeth and "Ashes of American Flags" also from Yankee Hotel Foxtrot get the same revamped treatment. The songs without drastic reworkings are just as engaging. "Sky Blue Sky" from the album of the same name and "Via Chicago" from Summerteeth are beautiful as acoustic numbers.
I only have one legitimate complaint about this album. It's too damn short. The album clocks in at just under forty minutes. Tweedy has a massive back catalogue of songs to pull from. Why not do a few more? Why not put together a double album?
Here's to hoping Tweedy has another acoustic album up his sleeve. As a side note, this is the only LP I have ever purchased (that was not a MOFI) that comes with its own anti-static inner sleeve. That should tell you all you need to know about Tweedy's respect for vinyl.