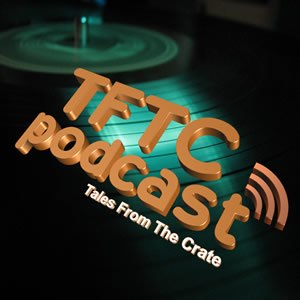 Tony Holt hosts the vinyl centric podcast, Tales from the Crate, with his friend, Jeremy Rhoten. The podcast continues to find a larger audience with their stories of vinyl finds, discussion of classic albums, band interviews, and of course, their dedication to play LPs throughout the show. The show records bi-weekly form Tower District Records located in Fresno, California. Recently, Get it on Vinyl had the opportunity to sit down with Tony and discuss his love for records.
GIOV: Tell us about yourself.           
I'm 47 years old and work in sales. I've been into music since my early teens although I'd grown up with music playing in the house all my life. A close second to listening to music is talking about it, and I'm lucky enough to do a podcast, co-hosted by my good friend Jeremy Rhoten, where I can do just that. It's very rewarding when people tell me it that the show (Tales From the Crate) reminds them of the days when they would sit around, drink a few beers, play some records, and talk about music.
GIOV: What's playing on your turntable right now?
The last thing on my turntable was the album Wasted by Lukas Nelson and the Promise of the Real. Lukas is one of Willie Nelson's sons, and he has quickly become one of my favorite finds of the last few years, and I see them perform live every chance I get. Not country music at all, more rock or jamband-ish.
GIOV: How did you get into record collecting?
I got into collecting a few years after getting into music. I was, of course, buying records by my favorite bands—which were mainly hard rock and metal bands in the early and mid '80s, but a little later, I was hanging with friends that were into different genres and I was introduced to imports, test pressings, radio show LPs, bootlegs, and other releases. We'd hang out at Tower Records in Fresno and buy Goldmine magazine to peruse all the tiny print ads selling rare items even though we didn't have tons of money.
GIOV: What were some of the first LPs you remember buying?
Some of the first records I bought with my own money were: Queen's The Game, John Lennon and Yoko Ono's Double Fantasy, Blue Oyster Cult's Some Enchanted Evening, and a 45 of Ozzy's "Flying High Again".
GIOV: What's the most prized record in your collection?
The most prized record(s) in my collection were the ones given to me by my grandmother. She used to work at a diner in the late 50s and early 60s in the Bay Area, and the jukebox representative used to give her and the other waitresses the singles he switched out for new releases. It's a nice batch of Sun singles by all the greats, some Beatles and other British Invasion bands, and other cool stuff of the day. They're beat to hell but I treasure them, mostly for memories of my grandmother and imagining what went on as those records played in the diner on the jukebox.
GIOV: What artist or genres are you currently collecting?
I don't know that I currently look for or collect any specific genre over another but I do tend to look to back up on vinyl many of the releases I have or had on other formats. Other than that, what I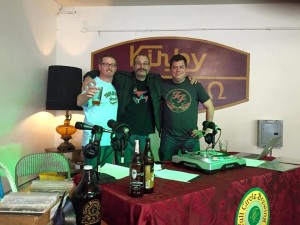 look for changes all the time.
GIOV: What are your top five desert island albums?
My Top 5 desert island albums change from time to time but has stayed mostly intact for a while now. In no order; Tin Machine (self titled), Gov't Mule's Dose, Stevie Ray Vaughn's Soul to Soul, Masters of Reality (self titled), King's X's Dogman
GIOV: How many LPs do you own?
I would estimate that I have about 1,000 LPs and about 3,000 CDs (including few hundred burned CDRs).
GIOV: What are some of your favorite record stores?
I have many favorite record stores, but I have to say that Tower District Records in Fresno is my very favorite. I'm a little biased now that I've become friends with owner Bob Lambert, and we do our podcast live in the shop, but I can honestly say that there is a terrific selection of used vinyl at more than fair prices. It's a great shop that is growing by the day, hosting events such as ArtHop, and featuring live music on the in-store stage. I also love to visit a couple shops in San Luis Obispo when I'm there; Boo Boo Records and Cheap Thrills. Actually, visiting record stores while travelling out of town is always fun and exciting because it's almost a guarantee that the selection will vary from your hometown's shops due to demographics and tastes.
            Tales from the Crate podcast can be found on iTunes or groovepods.com. Tony is a wealth of vinyl knowledge and often referred to as 'the professor" on the show. Be sure to catch the show, and hear Tony discuss his love of vinyl.