Tim, owner of Hi Tones Record Store in Fair Oaks, California spoke with Get It On Vinyl about the store, it's upcoming expansion, and what it takes to own an independent record store.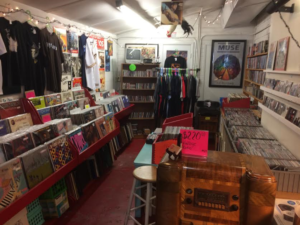 GIOV: Tell us about Hi-Tones Record Store
Hi Tones: Were an independent record store located in Fair Oaks, California in a little area we call the village that is a little town that has been there since the early 1900's. There are lots of eclectic shops in the town. The building we're in was an antique store for many years and then it kind of evolved into a small record store, soon to become a larger record store.
GIOV: When did you guys open?
Hi Tones: I've been dealing in vinyl for about 10 years. The actual store has been around since 2013.
GIOV: What are some of the biggest trends you have seen in the independent record industry?
Hi Tones: Vinyl is the big mover for us. CD's are kind of stagnant. The vinyl sales are kind of all over the map. We never know what people are going to bring up to the counter and buy. It's allot of classic rock, it's all indie rock. Then you have your big bands, Tony Bennets and Sinatra. Punk rock is hard to keep on the shelves. When we get that stuff in it kind of blows out quick whether it be the Dead Kennedys or Black Flag, TSOL, or any of that stuff.
GIOV: There is allot of different reasons that people think vinyl has sustained such a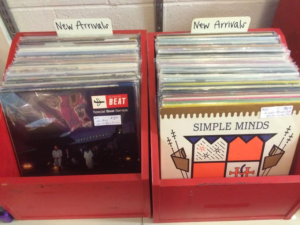 rapid comeback and rallied into the mainstream again. Why do you think that is?
Hi Tones: I think people are tired of buying nothing when the buy a file or stream. What I'm seeing from my customers is they want to have something physical in their hands. They can go home a read the liner notes, look at the cover art, research who produced the record, who's on the record, who the band members are, and you don't get that with a file. People are thinking, "wow, we spent all this money on mp3's and I have nothing if my iPod or computer goes bad. I've got all this time and effort into downloading music and I don't have a physical copy to replace it." The younger generations have been turned on to their grandparents or parent's collection and say "Hey, this is pretty cool." We've got allot of young kids buying records. Were also selling allot of 45's. We probably move 30-50 copies a week. Being the in historic district we've got some jukebox guys. We had a couple come in recently who were trying to collect all the #1 Billboard songs from 1962-1982. They had a list and went through all of our 45's and found three or four that they didn't have in their collection yet. They were super stoked because they love looking. They are trying to complete that list.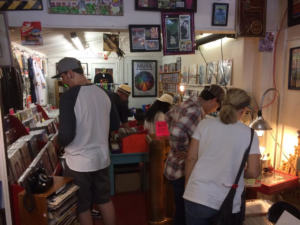 GIOV: Speaking of your customers, are you seeing a certain demographic buying vinyl? Is it a specific group or all over the map?
Hi Tones: I'd say it's all over the map. We've got younger people, kids in high school, and people who grew up on the 80's who are buying classic rock going down memory lane and then you've got the old timers looking for big band and swing and old country like Merle Haggard and Johnny Cash. We've got allot of people who buy country music from us which I think is unique. We were selling Conway Twitty and Tanya Tucker over the weekend. That was surprising to me. So, when people come in and are willing to sell their collections, we will buy that country stuff, it moves for us. Everything we buy, we try to buy the cleanest product available. Some days it's tough with people saying, "These records are mint!" and they bring them in and they aren't even worthy of the dollar bin. Finding clean product is tough but we've managed and have some pretty good sources of bringing in nice clean product.
GIOV: Is it becoming more difficult to find good quality vinyl?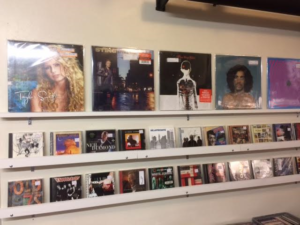 Hi Tones: I think it's harder because more people are actively buying and enjoying that format again. Then there's others who just want it out of their house because it takes up space.  For example, I hit a couple yard sales over the weekend on my way to the shop and as I was leaving I would ask if they have any vinyl and they would say, "You're the third or fourth person to ask about that," and that's at nine in the morning. So, they are out there scouring for records at yard sales and flea markets. They are crate digging and looking.
We also sell some new product. On the shelf right now we have the new Mumford & Sons, Sting, Taylor Swift, Three Days Grace, just different new copies. That moves to a certain kind of clientele. Like those who have just gotten a new Crosley and want something that's clean and sounds good.
GIOV: Is the bulk of your sales in used products?
Hi Tones: The majority is yes.
GIOV: You are getting set for an expansion of the store. Tell us about that.
Hi Tones: Currently the building we are in is about 500 square feet. We are doubling that and going to about 1200 square feet. We are going to have some different items in there, some retro radios and furniture, things that kind of tie in the whole vibe and make it a real cool place to come and listen to music. We are also expanding our book section and bring in some music books and biographies on bands. People enjoy that. We are going to add some posters and stickers. We've got probably 500-600 band t-shirts that we have been bringing in.
GIOV: Why do you think independent record stores are important to a community?
Hi Tones: Well the big box stores are dying. The independent record stores have a different vibe to it, a more hometown feel, people are comfortable, it's not a sterile environment like when you walk into the big stores and it's just a rack of CD's and a little bit of vinyl. People want to see posters and things on the wall, and have a good feel when they walk into a place. Being a small store, allot of our customers like that feel. They are not in some 4,000-square foot store where you're just a number. We appreciate every customer who comes through the door.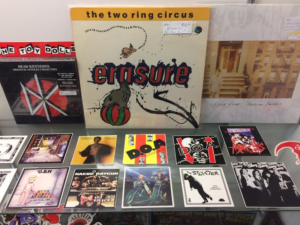 GIOV: Are there other independent record stores in your area?
Hi Tones: There is one about 30 miles from us and a few nice stores in downtown Sacramento. A couple of stores have closed due to lease rates and moved online. There is a fair number of stores in town and everyone kind of does their own thing. One of the stores has allot of garage rock and punk and alternative rock and has a great feel to it. There are others who cater to classic rock and some who are big into jazz. Ours is all over the map and were trying to make people aware of all the different genres we have available in the store.
GIOV: What is your favorite part about owning an independent record store?
Hi Tones: The people, the customers and what they are buying. You have them buying classic rock and suddenly, they are buying a Juice Newtown album. It's eclectic what they bought. I really enjoy that. I really enjoy it when someone brings in a clean collection that we can turn onto our customers.
GIOV: What would you say are some of the biggest challenges facing independent record stores?
Hi Tones: I think lease rates are the big thing. Location, size, that's a big part of it.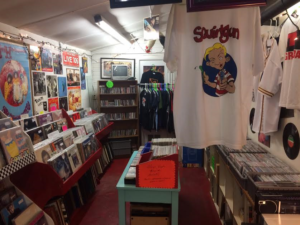 In today's times, you've got to stay small. With records, tapes, CD and other media you can fill up a small store and stock it well, stay in business, and take care of a community that you are trying to serve.
GIOV: Do you take part in Record Store Day?
Hi Tones: We have not yet. I will probably look at that next year after the expansion. I know one of my friends participated this year and said was huge and growing every year. It's a good way to keep the momentum going. People get excited about record store day. There was a line out of one of the stores in town. People where lining up about 6:00 in the morning.
GIOV: Do think there is a healthy future for independent record stores?
Hi-Tones: I do if it's done right. I think it's here to stay. It's never really gone away to the serious collectors but it's strong. I don't see people reverting to buying files. We sell cassettes too. Look at Burger Records, they are pumping out a ton of that stuff. They are pressing 300 copies but they are moving them! As far as other formats, CD is still a good format for some people. They have a physical copy and CD prices are low now. Used CDs are 3-4 bucks. I think all the formats are here to stay. I just think people are getting away from buying MP3. I know there are all of places to stream music, but I hope people are using that to discover music and then go out and buy it.
GIOV: What advice would you give to someone opening a store?
Hi Tones: I would say you need a good eye for clean product. It's an uphill battle to acquire the inventory you need too unless you are selling new product. It's not a 30-40 hour week job, it's 50-60. You must be on the hunt and have a good eye and know what your customers are buying. If your bringing in genres that people aren't buying, your store is not going to be a success. Keep your mind open because your customers like different things that you like. The business is there if you do it correctly.