Get It On Vinyl had the opportunity to speak with DJ Miss Tyson, one of best and most decorated DJs in the UK.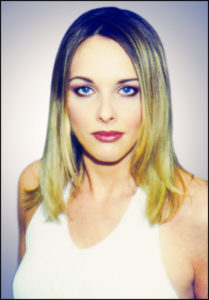 GIOV: For those of you who are unfamiliar with DJ Miss Tyson, tell us a little about yourself?
DJ Miss Tyson: I started DJing in1992, I play uplifting house and am strictly vinyl! I am originally from Hastings but moved to London in 1996, I got my first big break at Club UK in 1995. I was the redemption UK DJ of the year in 1998 and the Nivea Soft Female DJ of the Year in 1999. I have played all over the UK and Europe, also Singapore and Canada. Loved playing in Southern Ireland and spent a lot of time Gigging over there. I appeared on MTV , Rapture TV and featured in DJ mag, M8 and Music Mag. I have never ventured off of turntables and am the most excited person in the world that vinyl is making a huge comeback! I believe that mixing vinyl is a skill!
GIOV: How did you get started DJing?
I started DJing completely by mistake! I worked behind the bar of a club called the Crypt in Hastings, East Sussex. One night they had no warm up DJ and were desperate for someone to do the 10pm –12am slot, until the resident DJ Danny Howells (now very well known DJ!) went on at 12am, I said that I would do it and was given a create of dance music and shown how the decks worked and mixer and then they left me to it! I was completely thrown in at the deep end, I thought that the pitch control was the volume!! Danny would come in at 12 and I would watch him and ask him questions and try and work out how he did it! They then let me do the warm up when they had no one else!
GIOV: You had lots of success and numerous awards in late 90's. What were some your more memorable events during that time?
DJ Miss Tyson: It was when I was the UK Redemption UK DJ of the Year which was on DJ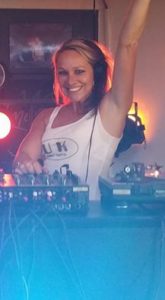 Mag. I had gone as far as I could get and had a lot of gigs in and around London but needed to push myself further, so I entered the competition along with over 2000 other DJs and won. It was amazing as it was featured on MTV and I got publicity agents and booking agents and everything took off for me. I thought that I was going to come in second so winning was a total shock and something that I will never forget!
GIOV: You are strictly vinyl. Is the digital vs. analog DJing debate still a hot button topic?
DJ Miss Tyson: I HATE Digital, I like seeing DJs work the vinyl and appreciate the skills of mixing and scratching by hand and having to listen and work it. I love watching DJs on vinyl and refuse to watch digital DJs. It's so boring just pressing sync buttons!!
GIOV: Why do you prefer DJing with vinyl? What do you think are the benefits?
DJ Miss Tyson: I love the sound of vinyl and actually being able to touch it and move it about, its great to work with and again I think it looks better and gives a better performance.
GIOV: Our website is dedicated to promoting physical music and independent record stores. Do you still visit record stores? If so, what are some of your favorites?
DJ Miss Tyson: It was Record Store Day on Saturday and I was playing at my local store called Dance2 in Guildford. They have all styles of music. I also hunt for vinyl online at hard to find records, Discogs and Ebay. The main music store, HMV is now stocking more vinyl. My local HMV years ago shrunk the vinyl selection until you could not buy it there any more. Last year the section has come back and it is growing. I can see more record shops opening again in the future. Having a piece of vinyl in your hand and a great cover wins over an MP3.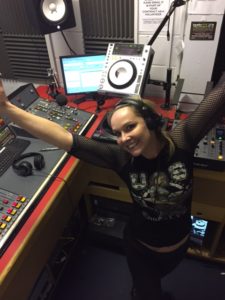 GIOV: For our equipment junkies, tell us about your DJ set up.
I swear by Vestax, I have used these for most of my Career, I have Vestax PDX 3000 decks, I love these because of the higher pitch range. I have a Pioneer mixer and I love Sennheiser headphones. When at gigs I am on Technics decks which are brilliant!
GIOV: In 2002 you retired from DJing and started "DJ Workshops Limited." What prompted this change?
I got chicken pox,and was covered in spots for a year so was not able to do gigs, TV and mags, also I felt the music was changing a bit so it all just kinda happened, also at this time through a friend I heard that a school was looking for a DJ teacher so I went along and got the job! I was trained in working with kids with behavior issues. I loved teaching so I sent my CV out and got a few more schools and then it just grew in to a company. Sadly due to all the government cuts over the last four years, funding in schools has literally disappeared so I closed the company January last year. I am now just working on my own in a couple of schools and doing private tutoring work.
GIOV: Tell us about "DJ Workshops Limited."
DJ Workshops Ltd worked with students from a variety of different back grounds and learning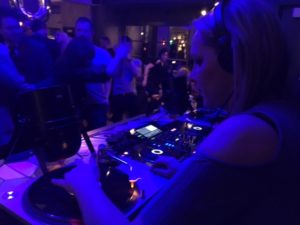 needs, it also appealed to students that were hard to engage in the school system. Sadly, due to the government cuts over the last couple of years the company closed in Jan 2016. I now work with students as a private DJ Tutor which is really sad as it was a huge benefit to students and schools and also a very rewarding job for me.
GIOV: Your back DJing again! What prompted the comeback?
Over the last few years I have bumped in to old fans and I said that I would get them some of my old mix tapes, I then got my decks and vinyl back out and started my hobby again! Obviously I still play in school and my tutoring work but last year I started Club UK reunions as a local venue, then in December I was asked to join Kane FM so it's all just started again but now more as fun rather than a professional full time job!