Guitarist Chris Caffery has been a part of the Trans-Siberian Orchestra since its inception in 1993. On the map because of their popular rock operas, the hard rock "juggernaut" has sold over 10 million albums and concert tickets. While the dynamic Caffery is a crucial part of the band, he also does solo work.
Caffery recently took the time to speak with Get it on Vinyl about his upcoming album and TSO.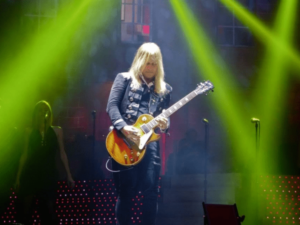 Get it on Vinyl: How did you come up with the name for the band? It's very interesting.
Chris Caffery: Paul O'Neill always wanted to have a band that had endless possibilities, whether that was creatively or musically….and he wanted to be able to connect the largest group of people through that. The Trans-Siberian Railroad is the longest railroad in the world and it actually connects the most cultures in the world because of the length of it. He wanted to do that same thing, in essence, with his music and with TSO so it was just kind of fitting. 
GIOV: You were a part of Savatage for a bit, right?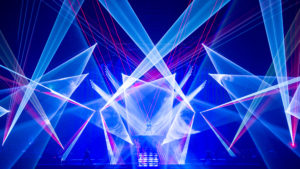 CC: Yes, I got involved with Paul when I was seventeen years old. Paul was producing and managing a band called Heaven at the time. I did some recording and a little touring with them. Things with the band started falling apart, the band stopped playing, the singer was moving somewhere far away from me. Paul started producing a band called Savatage. When he was in the studio with that band, he had made the sound of the record very large. He told me he thought the band would need a second guitar player on tour. At the time they were only a four-piece. He got me involved with Savatage when I was 19. I did their Hall of the Mountain King Tour and joined the band for their Gutter Ballet record and tour. Id left the band for a few years and eventually returned to Savatage for the recording of their "Dead Winter Dead" record. I remember Paul had had this idea with the son "Carol of the Bells" to record that song as hard rock. I had heard old recordings of it when I first started working with him. He actually tried to get the Scorpions to do it at one time, he was managing them, and they didn't. We had this album "Dead Winter Dead" and Paul wrote the song into the storyline where there was a cello player playing in the ruins of the war in Sarajevo. When Savatage released that album, it got picked up by some radio stations at Christmastime. It was getting 300 to 400 requests a day on the radio stations. Atlantic records had really taken notice of this. Paul had always had the idea for TSO…a band that could connect all kinds of people and would have limitless creative possibilities. Paul had written the stories for a Christmas trilogy. We wrote and recorded the first TSO album in '96 and that song was a part of the "Christmas eve and other stories" record. Here we are 21 years later. It's been an incredible experience.
GIOV: That's a great lead into my next question. How do you feel Savatage prepared you for TSO?
CC: Working with Paul…in essence, a lot of the things we did in the studio were just his method. The things we did recording-wise were things we did with TSO. The way he wanted sound and productions to be state of the art and kind of over the top…we were doing that to whatever level we could with Savatage and with our videos. We had tremendously huge video budgets at the time because Paul would make productions and stories out of the videos. While people had girls dancing around and laying on cars in videos, Paul would go and rent old theaters and come up with a storyline out of the song. He would spend three days meticulously filming this idea that he had. There was a certain way he wanted people to be entertained through the theater element of the music.
GIOV: You recorded your first demo at 14, right?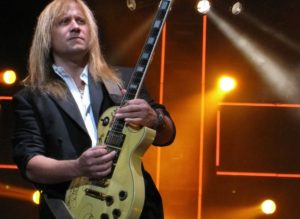 CC: Yeah, my very first demo I recorded when I was 14 years old. The band was called Anti. That was a band with my brother. We went into the studio and it was fun! (laughs) I don't have the master tapes for those sessions, but wish I did so I could get a CD version of all the old stuff I did when I was younger. 
GV: What was Witch Doctor?
CC: Witch Doctor was a band the I was in when I temporarily left Savatage. I realized, though, that my brother and I had drifted apart musically. I had more of a Savatage sound and he was more hard rock, White Snake. 
GIOV: How many solo albums do you have? Four?
CC: Five…I'm working on my sixth one right now. As soon as I get off the road here, I'm going to be going back into the studio to finish that. I got my drum tracks sent to me while we were out. Brian Tichy is a very good drummer, he did the drums for my last album. too. 
GIOV: How far along are you? 
CC: Right now I had demo versions of the song that I sent to him.  All I have to do is re-record. I have eleven songs that are pretty diverse. Lots of different colors. Yeah, this will be my sixth album. There were also two EPs.
GIOV: Do you have the title yet?
CC: The Jester's Court…like, the court jester.
GIOV: When's that coming out?
CC: Hoping to have that out in June or July.
GIOV: TSO has amazing visuals. Do you have any input in them?
CC: Actually, that's something designed by Brian Hartley, which he's been designing with Paul every year. I usually look forward to them just like TSO fans do. 
GIOV: What was the most important thing you learned this past year, personally or professionally?
CC: Never take life for granted. We lost a couple of really special people this year in Paul O'Neill and David Z. We were blindsided by their deaths. Makes you appreciate everything you have.
GIOV: If you could go back in time and perform with any band or person, who would it be and why?
CC: Ronnie James Dio was someone who I always wanted to work with. Unfortunately, he passed away a few years back. We were friends and he'd always say, "One day we're going to work together." I grew up a real metalhead and always wanted to do a record with him. Well, that one day is never going to happen.