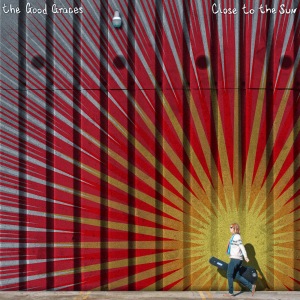 I'm a big fan of indie-folk. I'm sure there are many reasons why, but primarily it would have to boil down to both my appreciation for songwriting and rawness. After hearing a couple sample songs of The Good Graces, the ongoing musical project of Atlanta musician Kim Ware, new album Close to the Sun I had a feeling it would be right up my alley. Luckily for me, it also exceeded my expectations.
While plenty of friends contributed to the new LP, every song is centrifuged around Ware's vocals. One of the best examples is the opening track "I Don't Know Where to Start." After a very soothing intro Ware delivers vocals with expert cadence, letting not the lyrics or instruments determine the timing, but the feeling. The only downside is this track is so short, I could have listened to this for an hour and been perfectly content.
With more robust vocal energy, "Cold in California" is a blues inspired track that is simple and to the point lyrically without skimping on any of the emotion. The song really takes off on the fourth stanza. It is only at the end when you realize how well the song is put together, even without a chorus.
The mid-section of the album dives into deeper emotional levels. "Under the Weather" makes use of powerful metaphors that are simple to understand but relatable to almost everyone. Haven't we all had someone who we knew we would be burned if we got too close? The songs chorus, with its subtle horns, organ, and Wares vocals in the highlight of the release.
Both rock and country inspirations are heard throughout the second side. "Standing is Line" has a fantastic groove and lyrical structure, and we are finally treated to expanding guitar work. "Parts>Sum" opens as a slow acoustic ballad but quickly develops into a country twang. Wares vocals are raspy and muddled but grow with the harmonies before a guitar melody, right out of "Ghost Riders in the Sky" brings it to an end.
One of the best tracks on the album is the closing song "Before You Go." Sometimes the most meaningful love songs don't need metaphors or deep hearted sentiments. Sometimes they just need to be a blunt statement. It's a reminder to someone that above all else, she loves them. The world would be better place if we all did the same.

While some tracks are certainly stronger than others, none of them miss the mark. Close to the Sun is solid and Ware demonstrates great confidence in her musical and vocal delivery. It is albums like this that makes me love this genre even more.
The Vinyl
Wax enthusiasts Fort Lowell Records are behind this LP. The album includes a heavyweight LP, download card, and full color jacket and lyric sheet. You can pick up a copy from your local independent record store or directly from Fort Lowell Records.