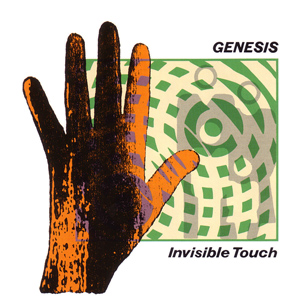 Since both albums recently turned 30, I was asked to revisit either Genesis's Invisible Touch or Peter Gabriel's So. This was a tough call. Not because I am torn between a pre- and post-Gabriel Genesis. But because Gabriel's "Big Time" video is permanently engrained in my brain and the Genesis album had the eight-year-old me begging my parents for a set of Hit Stix.
I recently picked up Invisible Touch the last time I rummaged through my favorite record store. As my eyes scanned the back cover, the song titles took me back to being a young kid, dancing in the car to the album's radio singles. Today, I still crank up "Tonight, Tonight, Tonight" and my steering wheel becomes a drum set whenever it comes on the "oldies" station.  So, of course I bought the album because it is basically the post-Gabriel Genesis's greatest hits.
While the songs are catchy, the synthesizers and electronic drums don't have me busting out my air guitar. Air drums do make an appearance while listening to the album, but only for the really big intros. Overuse of an electronic drum roll over the toms plagues the album. Given the similarity in the drum sounds, it seems odd that many of the songs go on for so long. I am used to the radio edits; I forgot that the album version of "Tonight, Tonight, Tonight" is more than eight minutes! It's completely unnecessary.
I am not one to get political, but the message in "Land of Confusion" is just as relevant today as it was 30 years ago. In the wake of our current political climate, I find myself wondering has anything really changed in 30 years?
Back in the day, the "Land of Confusion" video, dominated MTV with its satirical puppets of our bumbling world leaders. Replace the puppets of Ron and Nancy Regan with Michelle and Barack Obama and Putin with Gorbachev and the video works today. Can you imagine the hilarity of the Spitting Image puppets of The Donald and Hillary Clinton?
Today, the electronic drums and the overly synthesized sound in "Land" are not really my bag. I prefer the hard rock and the aggression found in Disturbed's cover. This metal rendition seems more fitting to drive home the song's call to action.  
How many of us complain about leaders, yet don't bother to vote. How many people complain about the problems in their community yet don't do anything to change it?
There's not much love to go around.
Our political system is a bit of a joke. But instead of complaining about choosing between the lesser of two evils, congressional gridlock or lack of funding for whatever, do something. Volunteer, rally behind a third party candidate or donate to cause. Heck, pick up the phone and call your congressman. Because this is the world we live in, and these are the hands we're given. So use them and let's start trying to make it a place worth living in.
If you weren't singing along to the last line, I'm sorry I lost you in my political rant.
Genesis Invisible Touch proves that less is more. Just eight tracks garnered the band five radio singles and their best-selling studio release. The album weaves catchy lyrics to tackle drug addiction, political commentary and of course love songs – I can't help but sing along with "Throwing It All Away." Meanwhile, Invisible Touch allows Tony Banks to showcase his mad keyboard skills. Bank's synths take center stage in the album's closing track "Brazilian." Yet the band can't back away from what seems like the exact same drums that plague the entire album. This has me skipping this track and moving on to another album.
Nostalgia

Sing along
Air Guitar

(air drums)