Let's start this article off right. Vinyl is still kicking ass. It's still growing. It's defying the odds, the naysayers and all those who declared it a flash-in-the-pan hipster movement. For those who love the format, it comes as no surprise that vinyl has staying power, and now a whole new generation of music consumers are enjoying and embracing the format, and ensuring its longevity.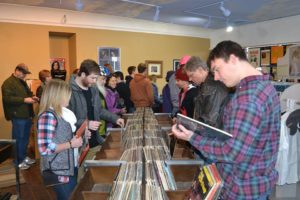 However, before the industry takes a victory lap, it's important to remember that the format's biggest advocate, the independent record store, is facing yet another hurdle. While new stores are opening, they are facing the same threat many retailers are, and that is the online marketplace and are not talking about iTunes or illegal downloading. Today record stores are facing competition in the online marketplace, with the same format that saved them from obscurity.
Vinyl seemed to always have a home on the online market. Before vinyl made its record comeback in new releases, vinyl collectors could seek out the missing titles from their collections through eBay and other auction sides. Suddenly the holy grails that could only be found after years of crate digging and thrift store purging were available at the click of the mouse. The marketplace did two things. It connected collectors, and re-saturated the market, driving down the overpriced records once thought lost forever.
However, as the vinyl format increased in popularity, the format found its way into

plenty of online stores. Amazon became a dominant player early on, followed by dozens of other copy-cats. Discogs made its mark catering to the collector's market, serving as both a database as well as a market place. Even record stores themselves jumped in the game and created their own online stores, determined to bring the sales back to the store, even if people were not stepping foot through the door.
Today there are more outlets than ever peddling vinyl. Along with the label stores, distribution companies, band websites, Amazon, eBay, Discogs, and many more,

there are hundreds if not thousands of outlets to get just about any record, new or used, in existence. The market became so saturated and competitive it became impossible for most record stores to compete online and they simply gave up.
So how do record stores compete with this new online threat?
First, stores can play to their strengths, the same ones that preserved them through the download era. No matter how hard they try, online outlets cannot re-create the record store experience. Auction sites cannot replicate thumbing through a crate, Discogs doesn't give off the smell of musky record jackets, and no Amazon algorithm can recommend a release like a record store employee. YouTube links and Soundcloud clips can't replicate a great in-store performance and no website has a collection of great locally produced music.
Labels can also play a big part in promoting independent record stores. In addition to the ever-expanding Record Store Day, more labels are releasing independent exclusive versions of new releases. With special vinyl colors, expanded packaging, and exclusive tracks, labels are placing more emphasis on their biggest partner, the independent record store. It's a positive trend that must continue to grow.
Finally, distributors can play a big part in ensuring the future of independent record stores. Being the primary channel between labels and stores, it's up to them to make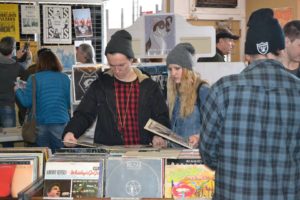 sure that they are treating all their clients on an even playing field. From release dates, wholesale prices, and promotional materials, catering to the largest customers is detrimental to independent business. With more stores seeking direct label contacts, it's easier than ever to bypass the middle-man distributor all together.
Much like the vinyl resurgence, the online stores are not going anywhere. In fact, it's reassuring the future of the format that so many outlets are available. Fighting the online stores is meaningless and ineffective. They serve a purpose for many consumers who utilize both the online collector markets and the independent record stores. However, these consumers, and many more know that no matter how curated, how refined, how cleanly designed, easily navigated or algorithm utilized, these stores cannot compare the experience and benefits that come with supporting independent record stores. That's why it's so important to continue to support these stores, and bring along friends to share in the experience.
Record stores beat the illegal download, the legal download, and is finding a mutual existence with the streaming consumer. This fight can be won as well.