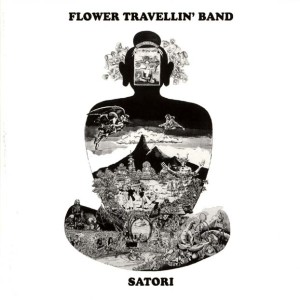 Flower Travellin' Band is probably not a name you're familiar with, but their 1971 album Satori is an album you need in your collection, especially if you're an early hard rock fan. The Flowers come off as a Japanese Black Sabbath. They are also probably one of the best examples of the heavy fuzzed out rock scene that was taking place in Japan in the 1970's. As a side note, there are some phenomenal heavy rock bands that came out of Japan in the 70's including Glue, Speed, and Shinki and Blues Creation.
The Flowers started off as a covers band led by a female vocalist. The female vocalist (a Grace Slick impersonator) only lasted one album, but the covers idea stuck around. The Flowers first two albums were littered with typical classic rock radio staples including Cream's "White Room," Janis Joplin's "Combination of the Two," and Black Sabbath's "Black Sabbath." When the Flowers finally dropped the covers band idea and started to create their own sound, the sound of their idols was not lost. Satori, the Flowers first album of all original material, sounds like a Led Zeppelin and Blue Cheer orgy. The album starts off with a torturous scream. The feeling of anguish lingers throughout the album both vocally and instrumentally. Thundering drums crash into heavy guitar riffs on this dirty black sheep of a cousin to a Muddy Waters' album. There are definitely world music influences with sitar and tom toms but they are always topped off with some of the best guitar freak outs you've never heard.
Every song on the album is named "Satori," but they are broken into parts 1-5. Just the naming of tracks alone would indicate that you should take this album in as a whole, but when breaking it apart "Satori Part 1" which kicks off the album is arguably the strongest song. The song is riff heavy and quickly works its way into a solid 70's hard rock groove. "Satori Part 4" cleans up the fuzz and plays more like a progressive rock track, and "Satori Part 5" has influences of blues laced throughout. Frankly, the whole album plays like a hard rock classic. The band is no Led Zeppelin, but they definitely hold interest with other bygone 70's hard rock groups like Toad, Sir Lord Baltimore, or Leaf Hound.
If you ever find an original of any Flower's album, it will cost you a few hundred dollars. Luck for you, Satori has been repressed and is available for about $20. When you pick up the copy, don't let the cover mislead you. Based on the cover, which features an outline of the Buddha filled with black and white mountainous landscape, you'd think the album was of traditional Japanese folk music, but this is exactly why you have to give all albums a fair listen. You'd kick yourself for passing up this album based on the cover.
[really_simple_share]