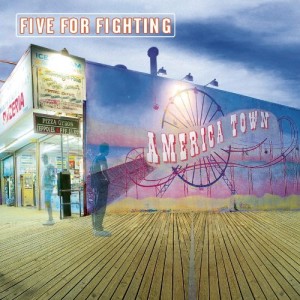 The album that inspired me to go back and start enjoying albums from front to back was Five for Fighting's America Town. I was jamming away on a random shuffle and heard "Superman" and two songs later I heard "America Town". Since "Superman" became a 9-11 anthem, my first thought was about how these songs were a reflection of the time and it really made me want to pay attention to the lyrics this time. I quickly switched to album mode and realized the album was released in 2000; a year before the terror attacks of 9-11.
While listening to the whole album, I quickly reverted back to my senior of college. I was living in the ski town of Red Lodge, MT and driving up the mountain in my friend's beat-up truck. It's surprising these melancholy lyrics and melodies bring back such happy, carefree memories.
The songs on this album cover some heavy themes: "Superman" – the desire to just fit in; "Easy Tonight" – suicide; "America Town"- apathy. Meanwhile, "Michael Jordan", one of the heavier sounding tracks, covers idolatry. Prior to revisiting this album I never realized "Michael Jordan" closes with the sound of a basketball dribbling. Other songs have lyrics so heavy, I felt like I was doing homework trying to find the point, i.e. "Boat Parade".
Of course there are the songs about falling in love ("Something about You") and out of love ("Out of Love" – which, by the way, has one of my favorite lyrics of all time: "I'm out of love again, but I got your stuff"). It even includes falling in love with a prostitute: "Jainy". While the lyrics are odd, this is my favorite song on the album.
[spacer height="20px"]While I typically want to rock out to air guitar worthy songs, the acoustic guitars and piano that dominate every song keep the focus on the lyrics throughout the album. Of course, the Internet has a million different reviews of the songs, all with different opinions about what the lyrics on this album mean. Isn't that what makes art so amazing? It's how the piece is interpreted that makes it wonderful. Beauty is truly in the eye, I mean ear, of the beholder.
Joy's Jam Scale
Nostalgia –


Air Guitar Ability –

Sing Along –
     just because John Ondrasik is out of my range.