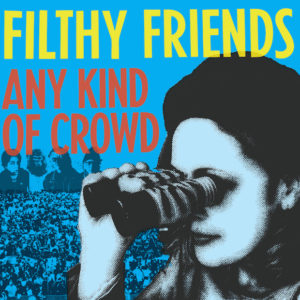 We first heard rumblings about a Corin Tucker/Peter Buck supergroup shortly before Sleater-Kinney came roaring back to life a two years ago. While we thoroughly enjoyed the rock-queens re-claiming their rightful throne, we hoped that the project was not totally shelved. Luckily our patience was rewarded when we got our first taste of Filthy Friends last year with "Despierta,"  and learned that Tucker and Buck were backed by Scott McCaughey (Young Fresh Fellows, The Minus 5) Kurt Bloch (Young Fresh Fellows) and Bill Rieflin (R.E.M.)
"Despierta" wasn't enough and we were thrilled to hear about a limited edition 7" awaiting us on Record Store Day. It was at the top of our list.
The title track, "Any Kind of Crowd" is a showcase of the individual members of this supergroup. Bucks signature sound is a natural fit for Tuckers vocals. While her vocals are softer toned, they are far more pronounced than even some of her solo work. Luckily, she hits her trademark wail before the final chorus. The whole track has a mid-90s vibe, complimenting the heyday of their respective groups.
The B-side is a cover of Roxy Music "Editions of You." The track is an electric rock track that delivers punches right out of the gate. The keys shine via Scott McCaughey. It's grungy, it's intense, it's awesome.
If the rumors are true, we are told to expect a full-length LP later this year. If this seven-inch is any indicator, we will be first in line to buy a copy.